Sending bulk emails using your work Outlook?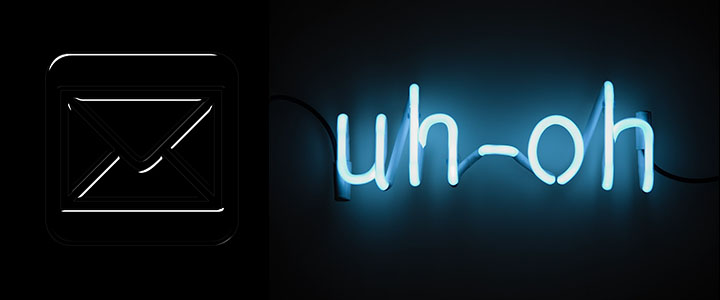 Do you think sending a bulk email using Outlook is a good idea?
When I consult with clients on deliverability best practices, I have been asked this question many times for clients that are just at the starting stages of email marketing and honestly don't know that it's not a good idea to send an email to multiple recipients in bulk via their own Outlook.
Why it's a bad idea to send bulk email using Outlook:
First and foremost, it is not CAN SPAM compliant to send a marketing email to multiple recipients without a method to unsubscribe.
It's often viewed as bad manners to send a mass email from your company's email account. Nobody likes receiving an email addressed to "Members" or "Database Contacts." It's impersonal, and sometimes can expose the recipients' email addresses which is a privacy violation. You don't want that kind of public reaction.
You can't track reporting like delivered, bounces, opens or clicks.
The bigger risk however, is blacklisting.
Most mail providers block recipient lists to 50 or more recipients.
Most mail providers set a limit of 50 -100 recipients per hour and 1000 recipients per day.
Recipients may flag your mail as SPAM, and since the group message doesn't follow the rules for bulk mail, your company could be targeted to pay penalties. AND it could be blacklisted.
Blacklist Woes
You send out a mass email to, say, 500 people. A few of these people don't want the message or weren't expecting it. So they click on "Report as Spam". These spam reports are tallied by ISPs.
When enough complaints come in, the ISPs report your IP address for your mail server to one or more blacklists. Some email hosts programmatically look at how many recipients you are sending to and immediately submit your IP address to the blacklists if you are sending to over 100 recipients.
When you send out more emails, the blacklists are alerted. All mail servers use blacklists as their first defense against spammers, when mail arrives at a server a lookup is done against the blacklists. If you are on a list, your mail is rejected. Once listed, there are a lot of hoops to jump through to correct this.
It impacts your organizations domain reputation.
It impacts the IP address of your office's email server.
It looks very unprofessional to recipients of that email but most of all,
It is not CAN SPAM compliant and you can be fined.
Bottom line, there isn't a legitimate email marketer out there that would steer you towards sending a mass email from Outlook. No one will tell you it's a good idea. It is NOT better to ask for forgiveness instead of permission. It is best practices to use an Email Platform to send mass emails, especially emails going to more than 50 recipients at a time, but honestly I wouldn't recommend sending to more than 10 at a time using Outlook unless all emails are sending to email addresses inside your organization.