What's Missing in Today's Customer Journeys?
At Infinity Direct, direct marketing is constantly getting a strategic makeover. Why? We're a bit obsessive about always trying to improve upon what we're doing and how we're doing it. That's why when it comes to helping our clients with messaging and an offer for their direct marketing campaigns, we don't go in with a one-size-fits-all approach. You simply cannot speak in the same way to all targets. Your messaging must make sense depending on where your targets are in their customer journey.
Curating content for the customer's journey goes beyond presale, sale and postsale or focused on business goals such as acquisition, conversion and retention. Various marketing platforms have their own five-step journey or eight universal journey steps (pick a number, any number) which have been helpful in the last 10 years or so to get the ball rolling. But it's more important to craft customer journey steps specific to your product or service. Sometimes less is more. Sometimes there are many more steps in a journey.
And the most important consideration of journey mapping is that it isn't one size fits all, one sided and only benefitting the brand. It's not all about how and what ads/impressions to serve to the prospect or customer to "nurture" them. There's nothing "nurturing" about being advertised at in a set cadence. That is where almost all journey mapping programs get derailed.
What is missing from a standard customer journey?
A 3D, instead of a 2D, view factors in feedback and if/then logic that changes where the journey goes based on that feedback and is missing from most standard customer journeys. That typically gets left off because of the complexity it takes to execute. The good news is that the building blocks exist, and you likely already have the tools it would take to execute. You simply need a plan.
Below is a merged list of customer journey steps you may recognize:
Acquisition
Audience Identification
Lead Generation
Lead Nurture
Conversion Event or Purchase
Retention
Onboarding
Cultivation

Subscription/Recurring Sales

Loyalty
The journey steps outlined above look like this when simplified and represented visually: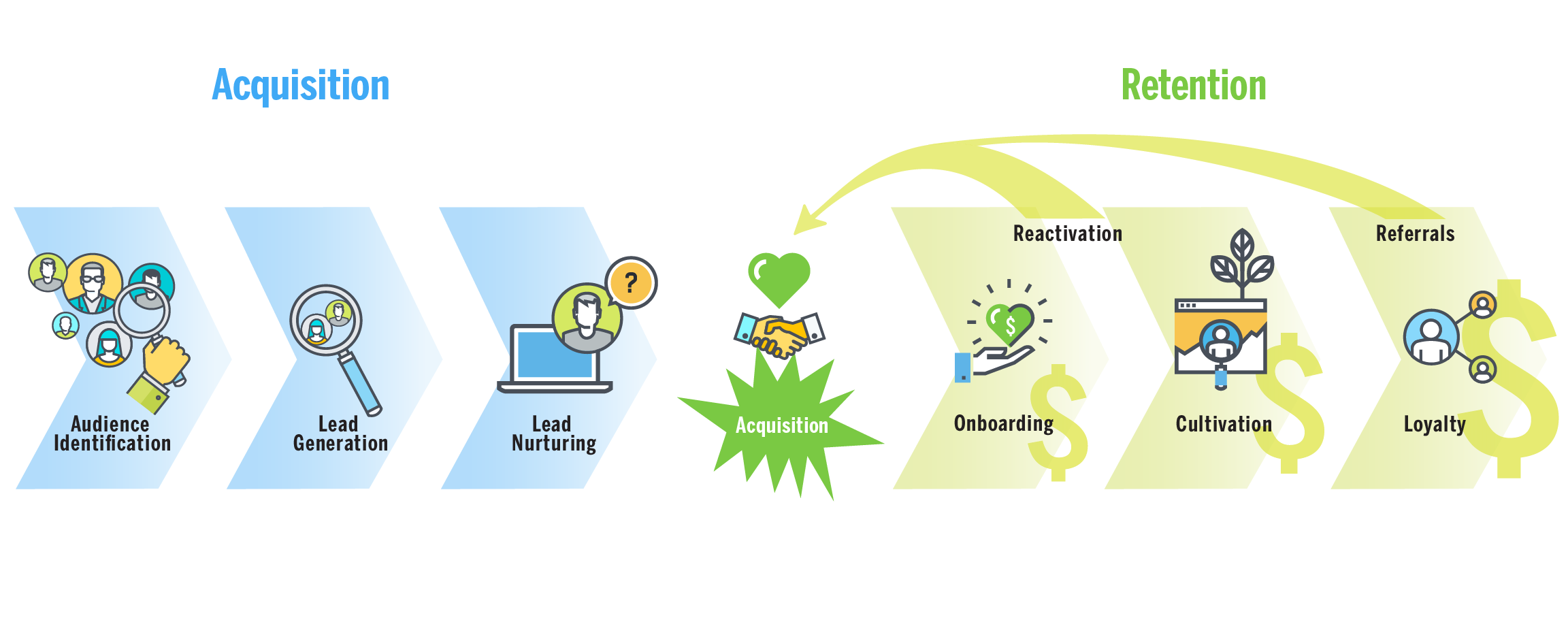 What changes when we introduce the idea of factoring in feedback into the impressions we "want" to serve on a journey? Data inputs.
To power any automation or suppression you will need to lean on feedback data inputs like:
email service provider (ESP) reporting (email opens/clicks/unsubscribes)
your support ticketing system reporting (number of tickets open/resolved and satisfaction with ticket resolution)
website contact us form submissions
social listening reporting
product or service satisfaction survey results
events from your sales database such as returns
If we had feedback from all the above sources, it would mean you could layer in behavioral and engagement data that creates a 3D picture of your prospect/customer. This is far superior to a 2D demographic/psychographic/geo approach that could only power pushing impressions and not empower changing a journey mid-campaign. Here are some examples of how additional data inputs could change your game:
If we identified a good prospect and are serving awareness impressions and they convert, they should be taken out of any acquisition drip and quickly added to a training or support retention drip.
If a prospect globally unsubscribes from receiving emails from you in any acquisition campaign, it's best to remove them from receiving impressions from other digital marketing channels as well.
If a prospect is in an acquisition drip campaign for a particular product, but you're seeing them engage with other product types on your website, consider moving them to another product drip.
If someone is reaching out by submitting a contact/support form or trying to talk to a representative via chat bot, they don't need another email or display impression. They need a real response from a person, not an automated response that links to articles you have on the subject.
If a product is returned, remove them from any training or support campaign you may have and back to awareness or consideration campaigns.
The point is to be able to make use of additional data inputs in a real tangible way to pivot quickly and serve more relevant impressions that nurture where the customer is in their journey. If you need help to understand how your journey mapping could be better, let's talk.