Navigating the Customer Journey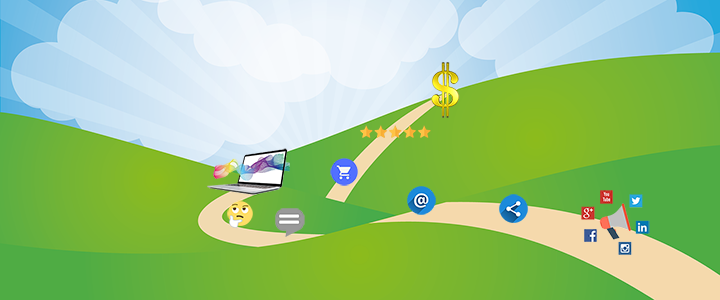 Much like the minivan making its way through the Black Hills on the way to Mount Rushmore, your customers are not simply going from point A to point B, but more accurately from A to Z with a number of intended and unintended stops along the way. Therefore, it is critical to understand all the touchpoints along the way and how they may impact your customers' final destination (purchase) or however you define that final stop on the journey.
What is a customer journey?
A customer journey can be defined as the entirety of experiences a customer goes through when interacting with your company. Rather than looking at the relationship as transactional, the customer journey is a holistic view of all the touchpoints in the lifecycle of your customers.
Modern direct marketers are armed with a bevy of tools and employ various touchpoints to guide their customers and prospects along their journey. Marketing efforts like direct mail, email and display ads as well as social media presence, customer service and support to the product or service itself are all important points along the journey. Not only are these touchpoints a part of process, there are the internal factors in play as well. From your sales team on the floor to your product support team on the phone to billing and collection notices, are all examples of the points along the route that you will need to consider as opportunities to impact the customer experience.
Getting started
To get started on your own company's customer journey ask yourself these questions:
What is our current process?
What is working well with our process?
What can be improved?
What does a successful customer interaction look like?
Once you have a definition of success, then work backward to define that journey, the touchpoints, stakeholders and responsibilities. Armed with this information, take the journey as a customer and see how reality compares to your perception. Getting buy-in across departments will help move your customer journey from a marketing effort to being embedded in the company culture and the forefront of the entire workforce.
Benefits of creating a customer journey map
Once you have an understanding of your customers' interactions with your brand, a customer journey map can serve as a visual representation of those touchpoints, from the initial interaction to hopefully becoming a long-term customer. Only when you have a comprehensive understanding of your customer experiences, can you create a useful customer journey map.
Here are a few of the benefits of creating a customer journey map:
Provides you, your team and your company an overall view of how your customers interact with your business.
Opportunity to determine if the perception of your customer journey matches reality.
Identify any gaps and allows you to take action to correct.
Gives insight on the specific customer needs at different stages in the buying process.
Highlights pain points and develops opportunities to improve the process.
Allows you to focus on the efforts that yield the best results.
No matter what stage your business is at, a customer journey map is a beneficial exercise. If you need help creating a map of your own, Infinity Direct can help. Contact us today to get started.