Event Marketing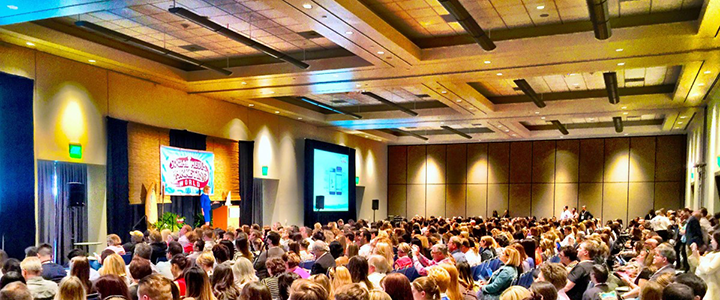 Let's review some of the marketing strategies you can use to make your event a success.
Webpage
A dedicated event website is the most important aspect of your event marketing. The page URL should be linked or printed on all communications. Consider this when choosing a URL. Make it simple and easy to remember. Often times a one-page event site is all that is needed. The page should be inviting and easy to navigate. Use past event photos or videos to grab attention and preview what attendees can expect. Make the key information like date, venue and keynote speakers available immediately to the viewer. Also, make the call to action (Register Now!) impossible to miss.
Email
Starting with the early bird or previous attendee discount is a great way to kick off the pre-event marketing blitz. Build your email list from past registrations, partner with applicable industry associations, speakers, friends or list rental. No matter the source of the list, you need to deliver a succinct and interesting message to get people interested and take action to register. Use your email subject lines as a countdown of urgency. You will need to send multiple emails ahead of your event. This is an opportunity to test discount, featured speakers, time of day, day of the week, etc. to see what gets the most opens. You should be tracking response to see what messages perform better and refine your strategy with each send and over time if a recurring event. Again, the most important aspect of your message should be a call to action (Register Now!) which will bring the recipient to the event website to get more information and register.
Social Media
Attracting the attention of folks not on any email list is also important. Twitter, Facebook, Instagram, Snapchat, LinkedIN, blogs and industry influencers. The list goes on and on. Being able to identify your target audience and the social platform that will best serve ads to those people is critical. You can maximize your marketing spend on social media by targeting specific professions, geography, age and so on. Again, you can test your creative and copy to see what works and what doesn't and adapt in real time.
Direct Mail
From a simple postcard to a formal invitation style envelope, direct mail provides the best channel to capture the attention and tell the event story to your target market. You don't need to be a neuroscientist to know that a tangible marketing piece offers many advantages over digital, you can take our word for it. Check out the previous blog, Direct Mail's Impact on the Brain for a more in-depth summary. Essentially, direct mail is easier to understand, processed more quickly, more persuasive and more likely to drive action. Direct mail is not the best solution for every event, but it does provide the aforementioned benefits and should be part of your event marketing mix, when appropriate. In addition, mailing people at their office will allow you to gain additional impressions when the invitation is seen and/or shared with colleagues.
Event marketing is just like any other direct marketing campaign. It is imperative to identify a target audience and provide relative and engaging messaging in a creative presentation with a clear call to action.