A Marketer Generation Playbook
I see multiple articles every day talking about this generation or that generation. As a strategist, it's crucial to know what channels those audiences are tuning into, backed by data, so when it comes time to create campaign strategy and plan, you know what cards to play.
Marketers focus mainly on three generational cohorts that are actively contributing to the majority of online/offline purchase behavior in the United States:
Millennial (birth year: early '80s – mid '90s)*
Generation X (birth year: mid '60s – late '70s)*
Baby Boomers (birth year: mid '40s – mid '60s)*
*There isn't a standardized source for exact age ranges for generational cohorts.
Based on numerous studies, here is a collection of statistics on the three generations:
Smartphone Users
Millennial 94.1%
Generation X 88.5%
Baby Boomers 65.7%
Tablet Users
Millennial 56.4%
Generation X 62.7%
Baby Boomers 47.5%
Smart Speaker Users
Millennial 35%
Generation X 25%
Baby Boomers 12%
Have a Mailbox and/or P.O. Box
Millennial almost 100%
Generation X almost 100%
Baby Boomers almost 100%
Social Media Usage
Millennial Approximately 90%
Generation X Approximately 82%
Baby Boomers Approximately 55%
Internet Usage
Millennial Almost 100%
Generation X Approximately 97%
Baby Boomers Approximately 80%
U.S. Share of Online Wallet
Millennial 28%
Generation X 24% (this goes up to 31% from other sources)
Baby Boomers 20%
U.S. Household Income Average
Millennial $69,000
Generation X $85,800
Baby Boomers $77,600
Over the Top (OTT) vs. Traditional TV Usage
Millennial Approximately 40% OTT & 60% TV
Generation X Approximately 33% OTT & 67% TV
Baby Boomers Approximately 36% OTT & 64% TV
For this exercise, I'm going to pick a product and create a play. I went to my Instagram feed and picked the first sponsored ad to serve an impression and it was a retargeted ad for Universal Orlando since I was looking at hotels in Orlando recently. OK, so we're marketing a family-friendly hotel in a popular vacation destination. Go!
Step #1 – Target Audience Research
Look at current customer base demographics/psychographics and what they have in common. In this case we'll target females age 30 – 50 who have children who are likely to range in age from 3 – 12. This is a mixture of older Millennials and younger Generation Xers.
Step #2 – Create a Playbook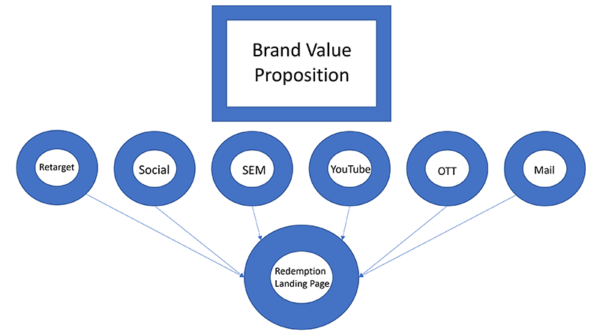 Step #3 – Set a Budget
Many marketers are unaware of what type of budget is required to execute on all recommended channels. It's like buying a car. You start with what you want to spend and what realistically you can get for that budget. Some organization have no idea what a media buy would cost them, but most of the time well-established businesses have a set budget for marketing in mind.
Step #4 – Execute
This is where web developers will add any pixels to support programmatic ad spends. Then, campaigns are pushed out with cost per click (CPC) budgets set, postcards hit the mail, etc.
Step #5 – Measure Response
This is when metrics are pulled together from each marketing channel and conversions are attributed to each channel to track return on marketing investment (ROMI). Campaign stats can be compared to past campaigns to know what channels perform the best, which may influence what channels are included in the next campaign.
Would you like to know what your playbook could look like? Let's talk.