INtelligent Data: Wild West of Digital Marketing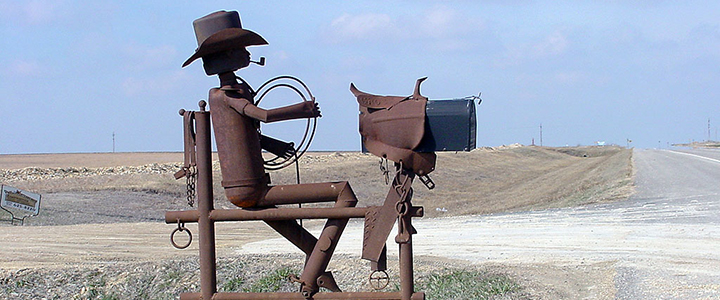 What if I told you that your website's anonymous visitors are an untapped goldmine of prospect customers and with technology, you can identify those visitors, append a postal home address AND mail them a direct mail piece?
A digital marketing strategist is always looking to help clients reach prospects in new ways. It wasn't until I hung my hat at Infinity Direct that digital and print came together like peanut butter and jelly at the right time.
Why? Because prospects are listening on ALL channels… not only digital. With email fatigue, Facebook ad fatigue and other internet noise, sometimes what is old becomes new again in beautiful ways.
What I'm talking about is ISP Authenticated IP Targeting Reverse Append or Direct Mail Retargeting. Both are technology that can track a website visitor, append a postal address to that website visitor and deliver a print piece to that postal address within a few days of their website visit. The faster you can deliver that print piece, the higher the conversion rate.
Why? Because you're getting in front of your prospects at a relevant time when they're still in the consideration phase of their customer journey and hopefully before your competition does.
So how does it work? It depends on if you're using an IP Targeting technology (non-cookie based) or a Direct Mail Retargeting technology (uses cookies).
ISP Authenticated IP Targeting Reverse Append
When you visit a website that uses a tracking pixel, you are connecting to the internet from a specific IP address your ISP assigns you for that internet session. Those IP addresses are specific to your area and once analyzed, those IP addresses are used to locate your longitude/latitude geolocation and bumping that up against other data points to as closely as possible match that to a home address.
The match rate for IP address to postal home address for IP targeting technology is generally between 40-60% of total web traffic and is fairly accurate for desktop and highly accurate on tablet/mobile.
What's important?
The technology should track IP location and append data in real time of the visit otherwise the ISP may change IP addresses for the web browsing prospect client causing a mismatch.
Sending the print mailer in micro/small batches to deliver in-home in a timely manner. Don't wait too long to batch print to save money on print costs or you're diminishing the impact.
Your website's privacy policy and terms and condition documentation should have specific language telling the web visitor what information is collected when visiting, how that information is handled, what the information enables you to do and who that information is shared with.
Direct Mail Retargeting (a.k.a Website Visit to Direct Mail or Modeled IP Targeting)
When you visit a website that uses a tracking pixel and serves a cookie, the cookie collects information about your website visit to that specific website. It knows how you entered (Google, Bing, Direct Traffic, etc.) and each page visited during the session. There are cookie databases that have your information already from previous cookie sessions from other websites visited, and collectively, this cookie data across many cookie databases is combined and made accessible for marketers if using a Direct Mail Retargeting technology.
Cookie based Direct Mail Retargeting technology can capture approximately 30-50% of total website traffic and match a postal home address with high accuracy.
What's important?
Sending the print mailer in micro/small batches to deliver in-home in a timely manner. Don't wait too long to batch print to save money on print costs or you're diminishing the impact.
Your website's privacy policy and terms and condition documentation should have specific language for your cookie policy telling the web visitor what information is collected when visiting, how that information is handled, what the information enables you to do and who that information is shared with.
So which technology is going to perform better? Great question. The answer in any digital tech is "It depends" and I dislike hearing it as much as I dislike saying it. I like specifics, BUT here is what will impact the performance of a web visitor to direct mail program as well as other marketing retargeting tactics enabled with the same technologies:
For web visitor to direct mail, the match rates are pretty even so focus more on quality/format of the print piece and which provider can get your print piece in-home in the shortest time frame at the best price. If this program is a starting point and you are looking to dig deeper into any web visitor behaviors for future data modeling, then cookie based technology is recommended.
For web visitor to email, the match rates are pretty even so focus more on email creative, offer and email delivery rates with your provider.
For web visitor to digital ad placement, I would recommend sticking with IP Targeting solution vs a cookie based solution as the case studies made public so far do show increased performance with impressions and CTR.
For web visitor to Facebook ad placement, I would recommend sticking with IP Targeting solution vs a cookie-based solution for the same reason as point 3.
Now, simply because something is technically possible, you must first consider if you should do it. Starting with a pilot program may be the best next step. From a sales perspective, most brands are all in. From a brand perception perspective, it's worth a thought or two before proceeding with a full-campaign to gauge if the overall perception is "Creepy" or "Stalker-ish" by prospects. Using data not explicitly provided to you is grounds for divorce according to a recent study by Statista:
You will find more statistics at Statista
If you would like to explore a Website Visitor to Direct Mail program, our team of digital strategists can assist and help you do it the right way. Let us know how we can help.