Out of Home (OOH) Advertising's Digital Transformation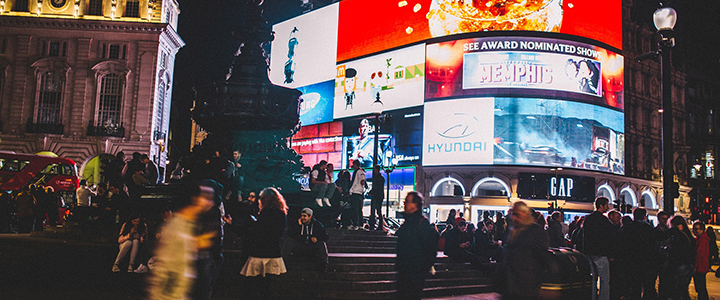 I remember when out of home (OOH) advertising meant long stints of the same ad on a static billboard along the side of a highway. The imagery needed to be big enough and memorable enough for drivers to remember so they could write it down, call or go to the website once they arrived at their destination. Fast forward to today, and the continuing investments in digital outdoor signage have transformed OOH to digital out of home (DOOH).
DOOH Goes Programmatic
As many marketers have adopted a multichannel approach to reaching prospective customers, adding DOOH is now easier than ever to execute, as ad inventory is now available programmatically. This gives marketers access to ad inventory with as little turnaround time as a social ad. It's simply an image!
DOOH screens are in more places than you probably realize, making it easier than ever to get your impression in front of your target audience. There are the obvious digital billboards, but also geo-based locations like:


Office buildings
Bus stops
Malls
Gas stations
Gyms
Restaurants
Bars
College campuses
An effective technique that can be done programmatically now is to layer on weather triggers to know when to serve impressions. Some examples of need-based vs. always-on marketing weather triggers:
Nearby pharmacies featuring sunscreen on a day with a high UV Index or featuring allergy medicine on days with a high pollen count.
Nearby sporting goods stores featuring cold- or warm-weather outdoor gear when temperatures drop below or go above a specified number.
Replacement window manufacturers featuring leakproof windows in specific ZIP codes when it rains or energy-efficient windows when temps go above or below a specified number.
Some marketers are seeing a 50% increase in-store foot traffic when programmatic DOOH layers in weather triggers.
DOOH Measurement Basics
Using a toll-free number, vanity URL or QR code on DOOH creative measures direct attribution, but there are additional ways to measure indirect attribution. A geo-fence around a showroom or store can measure foot traffic differences or a pixel on a website or campaign landing page can measure visitor volumes when DOOH ads are and aren't being served.
If you're interested in adding DOOH to your campaign's marketing channel mix, let's talk.