How to Get People to Open Your Emails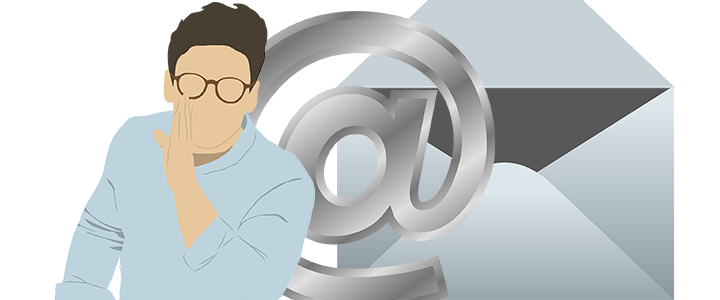 You can spend hours designing and more hours coding the most beautiful and engaging email template, but if no one opens it, it was a waste of time and money. I'm sure you've heard that before, but all too often the elements that make up an inbox preview, which are THE most important factors in getting a recipient to open your email, are afterthoughts. Specifically:
From name
Subject line
Preview text, preheader text or first few words of the email body copy
If you didn't attend the Guru Conference 2022, there were some great speakers, sessions and knowledge bombs dropped. All used the most recent email data that debunked a lot of old information marketers are still using as best practices. Remember, best practices do change over time.
Assuming you have all the boxes checked for email deliverability to reach a recipient's inbox, you have one shot to stand out and be seen before your email gets buried in the never-ending email abyss that is most inboxes, especially B2C inboxes. I know my Gmail has over 30k unread emails because I gave up the "inbox zero" mentality awhile ago.
Before we dive in, I would like to say that all open rates do dip between mid-December and mid-January by nature of the Q4 curse. It's not just your emails. So, if you are testing some of the tactics we'll discuss during this time, your results will vary and might not see the percentages of recent past email performance referenced here.
"Friendly From" Name Trends
The single biggest thing Ann Handley of Marketing Profs, a popular resource for marketing education, has learned in 2½ decades as a marketer is that your from friendly from/from name matters more than your subject line. All email service providers (ESPs) allow you to use a from name that represents who the email is from. This is separate from the from/reply-to email address. A from name can be from the brand (example 1), a person, a person from a brand (example 2) or recent marketing trends will use the from line space to kick-off the subject line instead of using who the email is from (example 3).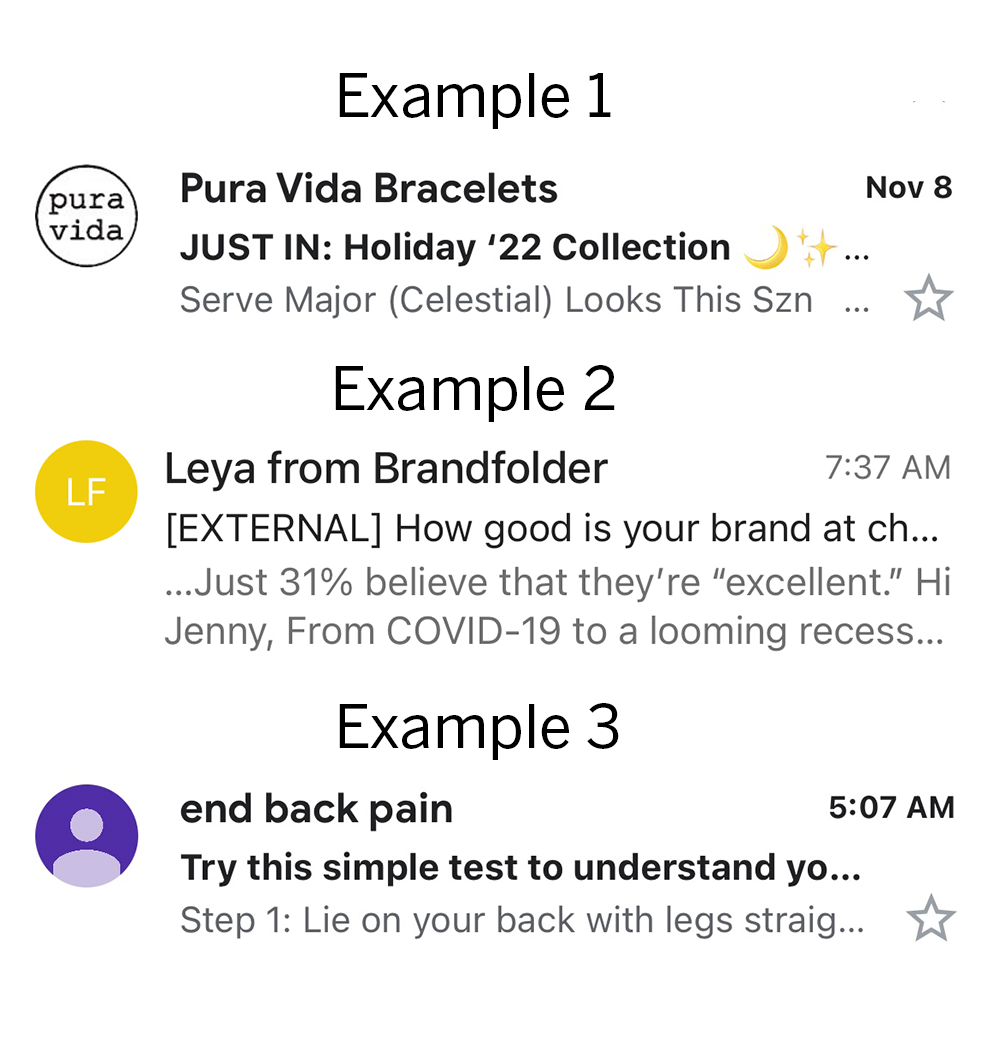 We're pretty used to seeing an email from a brand as the from name like Pure Vida. Recent trends of big brands are to break up the from name by categories depending on the type of email being sent, such as Pure Vida Bracelets or Pure Vida Rings.
Another trend is to use a person's name plus brand, especially when the brand has great recognition, but perhaps the content creator for the brand isn't a household/industry recognizable name yet, such as "Leya from Brandfolder." When you use a name-from-brand from name, it will increase open rates 27% for B2C and 31% for B2B over brand-only from names.
A newer trend is to consider the from name as the start of your subject line. This trend creates a full sentence or complete thought when the from name and subject line are combined like example 3 above. When from addresses match the topic of the subject line offer, the open rates increase 34% for B2C and 37% for B2B. Some consider the Friendly From the start of your subject line. A bonus to using this tactic to increase open rates is that this also decreases unsubscribe rates 29% for B2C and 32% for B2B when sending two or more email deployments per week.
Subject Line Trends
According to Laura Atkins, an email deliverability pro, spam filter trigger words in subject lines is no longer a thing. This is old thinking. Spam filters did away with word-based filters and are all engagement based, so if you're arriving in junk/spam folders, it's because of previous recipient engagement of emails from you, not your subject line.
A trend that is working to increase open rates is to use an emoji. When an emoji is the first character in a subject line, it increases open rates by up to 27% for B2C and 24% for B2B. Most email clients today can render emojis successfully. That wasn't the case a few years ago.
Some newer subject line tricks are to front-load with eye magnet concepts like:
What If's: What if this 1 tweak could double your income?
New Things: New products released tomorrow at 2 p.m.
Secrets: Unlock the secret to crushing sales goals.
Ungated Content*: [Ungated] 2023 Playbook for all product marketers.
Scarcity: These 12 available seats will be gone by EOD.
Urgency: [Call by Nov. 12] to get BOGO 50% off.
Feeling Special: VIP members get 1st pick before deals go public.
Intentional Teaser Ellipses: This 2-minute daily ritual will…
*Ungated content is content that is accessible without requiring anyone to submit their information on an online form.
Hidden Preview Text, Preheader Text or Email Body Copy
In most inbox previews, there is a third line of text that should make sense with the from name and subject line. If the HTML code of your email has hidden preview text, that takes priority on what fills that space. If there is no preview text in the code, then text from the email's preheader will fill in that space. If the email doesn't have a preheader, then the first few words of the email's body copy will fill that space. This space should make sense in context with the from name and subject line, but typically has the least impact on open rates. Just be sure it makes sense when you test your email.
Pro-Tip: Try/test intentional teaser ellipses in both the subject line and preview text like:
Subject Line: THIS 4-minute daily ritual…
Preview Text: …is the most powerful of them ALL.
Email is the most measurable digital channel in direct marketing today. If you need any help reaching audiences using email, let's talk.