Minimize Postage with Carrier Route Saturation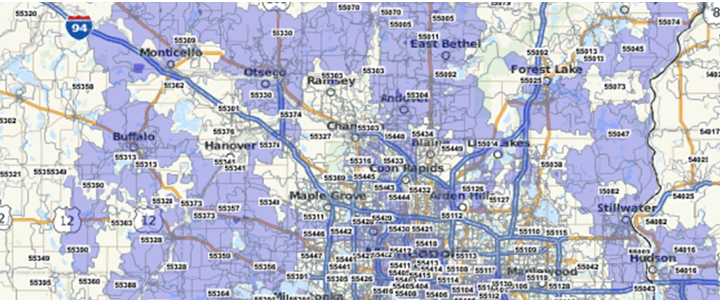 Over the last decade or so, most modern direct marketers have been promoting highly targeted direct mail marketing as a way to maximize return on investment and response. As we saw postal rate increases, more competition from email marketing, digital and social advertising, marketers responded by applying direct mail as a strategic component of a multi-channel marketing approach.
As we enter a new decade, that approach is still relevant and perhaps more than ever. Infinity Direct has found that depending on the client, product and market, utilizing mail carrier route saturation can provide significant savings in postage while still allowing demographic, interest or other targetable attributes that have become a best practice for modern direct marketers and direct mail.
Carrier Route (CCRT) saturation works by mailing a large majority of home addresses on a route. As a result, the mail can be sorted and delivered more efficiently, saving up to 25% on postage compared to current mail file selects. CCRT is different from Every Door Direct Mail in that you do not need to mail to 100% of households (90% is required to qualify for saturation), mail format is not limited to any size requirements and addresses are personalized to the home.
Just like EDDM, a saturation mail strategy is more appropriate for certain direct mail promotions. Saturation can be a great method of mail list select for retailers, home service providers and many other markets where it can be assumed that the product or service would be a benefit to most households within tight proximity. If you provide a home service like window or HVAC replacement, for example, you can target a carrier route made of homes primarily built in the early 2000s. Now that the homes are all 20 years old, they may benefit from replacement. In this instance, the house itself becomes the target regardless if there may be other demographic differences in the homeowner. But you may also find that in the CRRT there are a few homes that were built in the last five years and you prefer to remove those records as they are not in the market for window or HVAC replacement.
At Infinity Direct, we are in the business of minimizing costs and maximizing impressions for our clients to reach their business goals. CRRT Saturation is one strategy that can work by not only providing significant postage savings but you can also maximize the exposure to a universe that will be most likely include a large number of look-alike prospects. Reducing the postage cost can allow for including more mail records or allocating the previous budget to other marketing initiatives.
If CRRT saturation sounds like something that could benefit your direct mail initiatives and you would like more information, or request a recent case study, please contact us today.