Direct Mail Personalization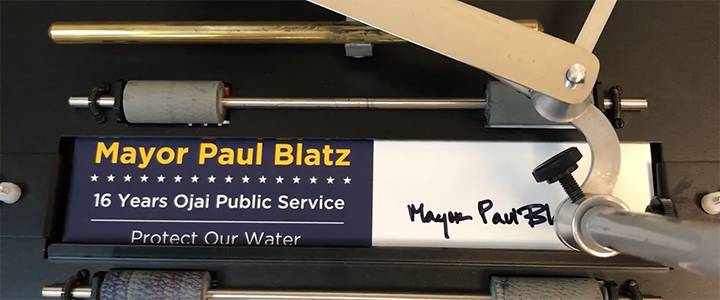 By creating that special feeling of getting personalized mail, modern direct marketers can capitalize on the emotional connection we have with mail to grab the attention of a mass audience and drive customer behavior. Here are some technologies and techniques that can help create that personalized letter feeling in larger quantities.
Laser Personalization
High-speed laser printers give direct marketers the ability to print high resolution (600 dpi) in black only, spot color or four-color process (CMYK). When quality, clarity and speed are paramount to your direct mail package, utilizing laser personalization can help your message stand out in the mailbox and boost your response.
Pen Addressing Machine
Think about how often you open mail that has been hand addressed. If you are like me, it has a nearly 100% open rate. The surprise and delight of personal mail gets me, and most other recipients, every time. Pen addressing provides the look of handwritten notes but greatly reduces time and money associated with having actual handwritten addressing. Check out this example of automated pen addressing in action.
Real Pen is fully automated, which means the handwriting will be more legible, accurate and less expensive than using human handwriting. This technology is perfect for fundraising efforts, invitations, special sales, reminders, thank you notes and signatures. The personal touch in your direct mail marketing effort will make your audience feel the love and almost guarantee they will open when used on a greeting card-style envelope.
Greeting Card-Style Envelope
A closed face, color envelope that you associate with birthdays, thank you cards and holiday greetings stands out in the mailbox and demands to be opened. By utilizing the technology above with the familiarity of a greeting card and an appropriate message and offer, your marketing mail will be set up for success.
Affixed Stamps
Using first-class postage can be expensive based on your volume. When using marketing or standard class postage, there is an option to use a pre-sorted stamp. This stamp when affixed to an envelope will look very similar to a first-class stamp and can give the mail piece an aura of importance.
Modern direct marketers know there is value in a marketing mix that includes direct mail. By creating mail packages that are inspired by the birthday cards your grandmother sends each year, you can recreate that emotional association we have with personal mail to make it stand out in the mailbox and increase your mail's open (and response) rate.