Our Love for Mail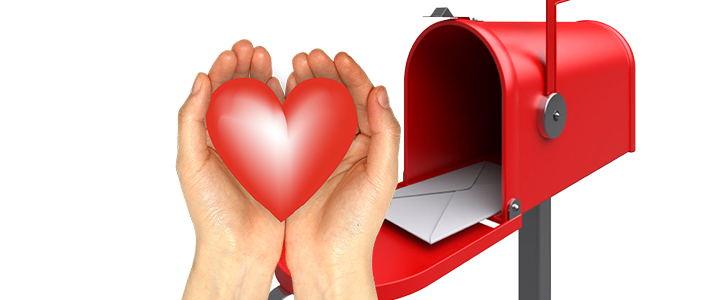 Here are four reasons why we should all love mail.
Mail is unwavering in its ability to delivery emotion
With rare exceptions (e.g., Polar Vortex), mail is like the best friend you know will show up when needed. Not only is mail totally dependable, the right message can serve as an instant day brightener. When the time is taken to send a personal card, not only does the recipient get the equivalent of a warm hug in their mailbox, the sender will also feel a sense of joy from doing something nice for someone else.
Mail is not fleeting
Sure, sending an email or text is easier and faster. But those messages will soon be forgotten or lost in an overgrown pile of digital trash. Friends and family will hold on to special mail like a souvenir from a memorable vacation. Send mail to celebrate a special event or holiday or to communicate an everyday message of encouragement or gratitude, and your recipient will feel the love and have a much longer-lasting memory than anything digital can provide.
Mail gives you a chance to be your best self
An outer envelope is much more than an area to transcribe an address; it is a blank canvas to draw, decorate and color your special message. Nothing stands out more and gives the impression of a personal note than taking a few extra minutes to customize the envelope with color, stickers stamps or any other decorations. Once inside the envelope, a personally crafted note is the best way to show the love to someone in need of a day brightener or for no reason at all. Aspiring calligrapher? Closeted landscape artist? Have a 100-piece colored pencil set you need an excuse to bust out? Thanks to mail, done. Don't look at sending a letter as a chore, but rather a chance let your inner creative flag fly!
Mail carries weight
For major milestones like weddings, babies and birthday parties, mailed invitations give instant credibility. A printed and mailed card will be displayed prior to the event to stoke excitement and create a physical reminder of the good times ahead. You can flag an email, or snap a screen shot of a text, but it's not the same thing. People don't print emails or screen grabs to post on the fridge or bulletin board. But a mailed invitation demands to be displayed and can live on as a memory even after the date has passed.
For 50¢, you get a first-class stamp with unlimited potential to change someone's day, year or life! It's simply the best thing to see in your mailbox. But birthday cards to your family or invitations to your friends are not the only way to spread the love. In the modern direct marketing world, marketers can use print technology, robust data and creativity to mimic the look and feel of personal greeting cards, photo postcards or other formats that will allow your brand to stand out in the mailbox. Consider using these tactics as a thank you message, an offer based on next likely purchase, or an exclusive offer for new customers. We'll take a deeper dive in to some of the options for creating personalized, mass mail in an upcoming post.