Four Considerations for Creating a Direct Mail Budget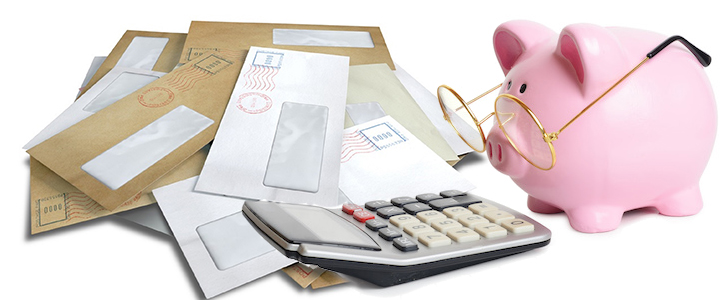 Before you start any project, there are decisions to be made that will impact the timeline, cost, effectiveness and more. Whether you are a custom home builder or a marketing manager, before you can put the finishing touches on your effort, you need to start at the foundation and build up. Much like how a contractor wouldn't suggest you paint the walls before the roof is built, we wouldn't suggest taking on a direct mail project without thoughtful consideration of your budget.
Is your budget appropriate for the goals of your campaign?
Before you even consider a budget for your direct mail program, it is important to have a clear set of goals around the mailing. From small mom-and-pop shops to Fortune 500 companies, business goals will keep you focused and help guide the plan of action in meeting them. Keep in mind, especially in direct marketing, goals should be measurable and time-specific. It is important to have commitment from all players involved and build a support network that will encourage risk taking and flexibility while striving toward the goal.
Armed with an established goal or set of goals, you can better budget for your direct mail campaign. If the goal of your campaign is to sell 1,000 widgets, then it may be easier to establish a budget. If each widget retails at $100 with a cost of production of $65, you can figure $35 per sale in profit. With a $35,000 sales goal, you can more accurately project a budget to maintain your profit margin. If the goal of the campaign is not as easily monetized, like a thank you message, a budget may be more difficult to assess. Looking at the lifetime value of a retail customer or the retention of a subscription-based customer will require a deeper dive into your data pool to establish an economic value.
Are you sending a message that resonates with your audience?
Whether you have a 50¢ or $50 per piece budget, if you are missing your target audience your efforts will be wasted. Duplicate records and inaccurate address information will not only decrease your response rate, but are wasted resources. If you are not regularly checking and maintaining your prospect or customer database you are throwing money away. Money that could be used to attract better leads to your offer. With clean data, you can evolve your direct mail strategy to create customer personas, or segments, that could allow greater targeting. You can test different offers based on demographics or past purchase history.
If you are asking prospects to hand over their hard-earned money, they need to trust your message. Your creative needs to inspire confidence in your business and feature a strong call to action. If your message appears to be SPAM, you will miss your target. Your direct mail should promote a positive buying experience from outside and in. With clean data and trustworthy copy and creative that reflects your brand, you will set your campaign up for success rather than risking failure before the mail even hits the mailbox.
Is your direct mail designed to maximize savings?
As experienced direct mailers, we know that there are plenty of adjustments to the design that could impact the budget and results. Sometimes adjusting the specs of the design can yield more efficiencies and lower costs. Are you using a self-mailer when your message could be better suited for an envelope package? Could the message on your 6 x 9 postcard work better on a 5 x 7? Will a reply device be needed or can a URL be more efficient? If you read my previous post on direct mail testing you know that the process is important for increasing response. Testing different formats can also provide cost savings or increases in the long term and is important to consider as a part of the overall budget. You can also gain more savings when you have a longer-term strategy that allows for bulk printing of envelopes, inserts or other components of your mail.
How will you combine your direct mail with other channels?
A stand-alone direct mail campaign will have different response expectations than a modern direct marketing campaign that could include email, website, digital ads, telemarketing and other marketing channels. For some efforts, direct mail may be the sole viable channel of communication. For others, there may be a boost in response by including an email follow-up that directs the recipient to a landing page to learn more about your brand or product before taking the desired action. Direct mail is an integral component of any data-driven marketing. When deciding your direct mail budget, it is important to have a broader understanding of all the current efforts. Open communication with other teams on their initiatives may yield some cost savings by avoiding wasteful duplicate efforts when channels could be better utilized as follow-ups or reminders.