Direct Mail Checklist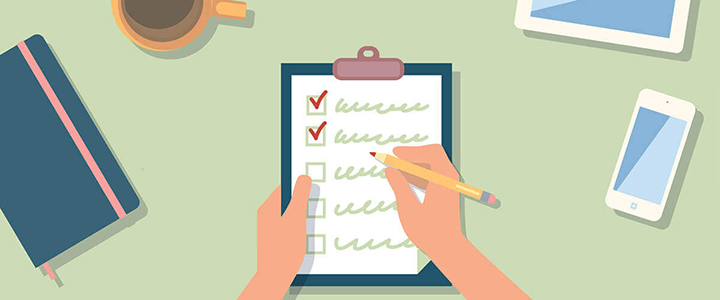 Whether you are an experienced marketer or new to the industry, the following overview and checklist can be useful in planning your next direct mail effort. It is our goal to provide an overview of the steps involved in going from concept to final delivery in the mailbox. Maintaining clear communication with internal resources, vendor partners and all stakeholders is critical in managing your budget and timeline expectations. Put in the effort upfront, and be better prepared to manage any issues that may arise over the course of the project.
Define the objective
Determining the purpose of the direct mail campaign is the most important step. A creative brief is a great way to start the process and develop a document that all interested parties can refer to. It should include:
Target audience
The most important message being conveyed
Action(s) you want the recipient to take
Set the budget, response goal
It is important to know the budget and response goal before the creative process can begin. Each project's budget can vary greatly. Champagne taste on a beer budget is a different set of expectations than champagne taste on a champagne budget. Postage class will be an important decision for your budget. Here is a quick overview of postage costs and delivery time:
Presorted Standard Class Mail:
Estimated per piece cost: $0.251 to $0.292
Delivery timing: 5 to 14 days
Presorted 1st Class Mail:
Estimated per piece cost: $0.378 to $0.50
Delivery timing: 2 to 3 days
Format
The goal(s), budget and creative will all play a role in determining the proper format to communicate your message. Options include, but are not limited to:
Standard/oversized postcard
Self-mailer
Letter
Brochure
Catalog
Design
Format, design and printing require more of a holistic approach. Armed with a comprehensive creative brief, the team can get to work on providing graphic design and format options that will best fit the goals and budget. Items to consider in design process:
Brand standards
Variable or static design
Provided copy or copywriting services
Confirm high-resolution artwork
Preflight files for print readiness
USPS approval
Printing
Format and design will drive the best print solution for your budget and goals. Items to consider include:
Printing process (digital/variable, sheet fed, web)
Ink (spot color or 4-color process)
Special treatments (coating, die cut)
Paper stock (gloss, matte, specified paper or house stock)
Paper weight
Data
You've put in the work to design a mail piece to meet your goals. Without good data the entire project is for naught. Define your target audience and determine the best source for fresh and accurate data. The list options could include:
House list (current customer, prospects)
Rented list
Specialty list (ex. new homeowners)
Mail services
A professional lettershop will provide the service needed to gain postage savings, potentially target a specific in-home date or range of dates, and ensure your mailing will be delivered as you intend. Services you may need include:
Addressing
Applying postage (meter, stamps or permit)
Machine inserting or hand assembly
Mail tracking
Fulfillment
Once the mailing is complete and has entered the mail stream, your job is not complete. Depending on the call to action, there may be additional steps needed to support the mail campaign.
Train/inform call center or other stakeholders of campaign
Ensure any web response is working and being monitored
Confirm postal funds and applicable reply mail procedure in place
Order fulfillment of purchases or incentives for response