What Matters With Website Traffic?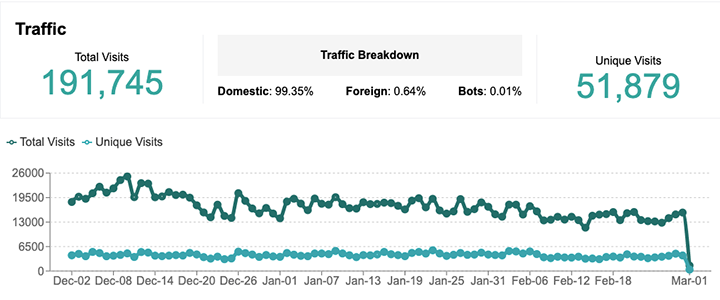 Let's shed some light on the topic of website traffic. Shortsighted analysts who tell you that your monthly traffic is horrible and needs improvement should be scrutinized just as closely as analysts who tell you your traffic is great even when your website is not helping convert prospects into customers. In a marketing world where metrics matter, website traffic cannot and should not be measured in the same way for all types of businesses because it's not a quantity play. It's a quality play. So, let's get real here and talk about what matters.
Website traffic can first be broken down into human and non-human (bot) traffic. I'm sure your goal is to always get down to the humans visiting your website and what they're doing, but bot traffic will always be a part of your total traffic.
Bot Traffic
Bot traffic includes all non-human traffic. Some bots serve a legitimate purpose, like search engine crawlers that crawl your content to be able to serve relevant search results when people search for keywords that are a good match for your content. There are also many bad actors, like click bots, download bots, spam bots, spy bots, scraper bots and imposter bots that are a nuisance and designed to be malicious or alter user experience (UX).
Click bots are designed to click ads, which inflates click-through rates but deflates ad budgets with no benefit to the advertiser.
Download bots are designed to download assets that are public facing on your website that inflate download metrics, but also can cause bandwidth issues if too many downloads are hitting the server at the same time.
Spam bots are designed to scrape contact information, including email addresses and phone numbers that are exposed on your webpages. They also can flood your blog comments with erroneous content known as spam comments.
Spy bots act as a spy to steal data and information.
Scraper bots are designed to scrape or steal a website's content. The purpose would be to steal content such as product lists and prices which can be repurposed and published on a competitor's website.
Imposter bots mimic human behaviors. The purpose is to attempt to bypass online security to gain information, data and content.
Visitor Location
Where visitors are located physically also matters. If you are a local business with a defined serviceable area or geography, traffic from outside your serviceable area isn't very useful to you. If you only ship products inside the United States, foreign traffic isn't useful either. Driving useful traffic is our secret sauce with what we call Multichannel Direct. Multichannel Direct only serves impressions to individuals who would buy from you without wasting impressions like traditional advertising.
Repeat Visitors
Ecommerce or retailer websites will see the most repeat visitors as people come back to look at something they wish to purchase again or look at other products. They would have a large total visits metric compared to unique visits because of that. Repeat visitors to a service or business website would be less than a retailer overall. The rate of repeat visits can vary if content on that website is continually changing, giving visitors a reason to come back or something new to consume.
We can see the difference below with an online retailer where unique visits are 27% of the total traffic in a seven-day period. Visitors are coming back many times and visiting multiple pages in that period that contributes to total traffic, but only 27% of that traffic is individuals shopping.

This example below is from a home service business with a very specific serviceable area. Local homeowners visit only when they need something specific. The website had a lot of great content that was useful to many outside the serviceable area. That means less of the reported traffic would be useful for marketing.

Then there are corporate sites for manufacturers like the example below. These types of sites see a large amount of organic traffic as people search for a specific car or recreational vehicle to research before they move further down the funnel and try to find a dealer near them where they could make a purchase. Depending on where the manufacturer is located, they could also see a greater percentage of foreign traffic.

You can see a drastic difference in the traffic from the seven-day ranges above for the different types of consumer websites. There isn't one "normal" to compare your organization to. How would you know where you compare to similar websites? There are great tools available like SEMrush and Similarweb that can help you see where your traffic falls in comparison to competitors.
More traffic to a small B2B business website wouldn't be useful if they're not prospective clients and low traffic to a big retail ecommerce website spells trouble. But each of these examples above are normal for the type of B2C businesses they are. If you're asking "what is normal" for your organization, check out one or both of the market research tools mentioned above, or if you'd like us to do the work for you and show you how we can help drive the right traffic, let's talk.