Marketing Communication Channel Overview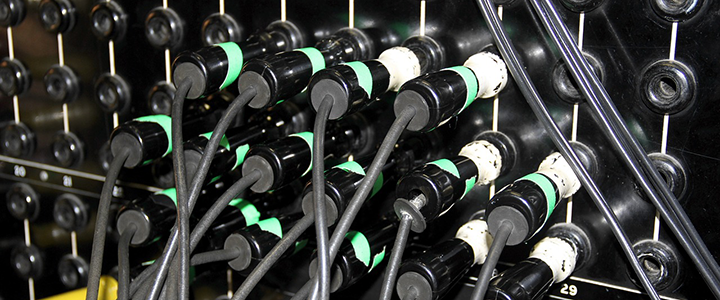 Direct marketing is all about connecting the right message with the right audience at the right time. And the end goal? Driving profitable customer action.
Direct marketing goes beyond a mail impression that lands in the mailbox. According to Salesforce, it takes 6-8 touches to generate a viable sales lead. The individuals you're targeting don't all have their eyes and ears on the same marketing channels, therefore a multichannel approach to marketing campaigns is the way to go.
If you don't have a baseline of marketing channels you've tested in past campaigns, your next campaign can test into as many channels as you have budget and creative for. This will help you find which channels resonate the most with your targets. If you're just getting started with multichannel direct marketing by picking and choosing a few channels that fit your budget, which channels make the most sense and where do you start? Let's dive into a high-level overview. In follow-up blog posts, we'll do more of a deep dive into individual channels.
Email
Email is one of the most effective marketing channels, and according to the DMA in 2019, the average return was $42 for every $1 spent. It's no wonder it's a no-brainer for generating revenue. There are four main types of email marketing:
Marketing
Promotional
Transactional
Prospect
Since most marketers are pretty familiar with this marketing channel already, I won't bore you with the minutiae, but you can learn more about the different types of email here.
Display
Display marketing is when an ad image is served, and an impression of that ad image is displayed to someone during their website visit. Many different types of websites make ad space available to the display ad network. If you've heard the term programmatic advertising before, it's because a programmatic platform (like The Trade Desk) is typically used to upload display ad creative, choose the criteria for the audience to serve the impression to or create a custom audience to serve the creative to, choose the start/end dates for the campaign and launch.
When you include display in your channel lineup, you'll version out your creative to the following ad sizes:
300×250
728×90
300×600
160×600
320X50
The key to spotting a display ad on a website is to look for the little triangle in the corner of the ad. Here is an example of a Vrbo 300×250 display ad on a news website.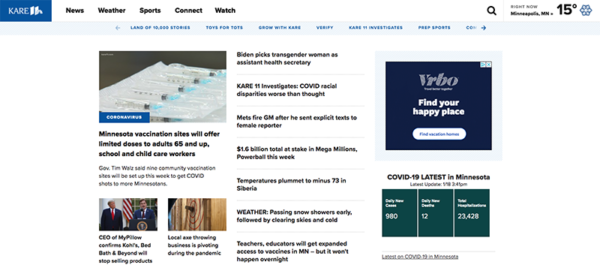 If you're currently sending email, then layering on display to your campaign's channel lineup is the next best channel for you because it is relatively inexpensive for the number of impressions that can be served.
Social
The social marketing channel can include either organic posting like a community manager would do on the company page on a social platform (LinkedIn, Facebook, Instagram, Twitter, etc.) that arrives in the feeds of the followers/friends or paid social like a social ad or sponsored post. This channel performs well assuming the audience targeting aligns with which social platform you're including in your campaign. Our recommendations are backed by research from Pew Research Center on the number of active user accounts on each platform and the number of times active users check their accounts making it possible to be served an ad impression.
LinkedIn ads perform best for B2B audiences in selected industries that align with your brand/product.
Facebook ads perform well for Gen X homeowners.
Instagram ads perform well for Millennial consumers.
Twitter ads perform well for both B2B and B2C Millennial and Gen X consumers.
TikTok and Snapchat ads perform well with Gen Z.
Native
The native channel serves ad impressions that look more like news articles and are found on many news websites. They are less ad-like and void of any salesy call to action (CTA) buttons or Learn More, Act Now, Download Now or other common CTA links. Typically, the image attracts the eye of a website visitor and the text surrounding the image does the work. The text is more informative than it is a question or "ask" to click or download. Native ads work well for Gen X audiences and older who consume news content online.
If you're not familiar with what these look like, here are examples of six native ads on a website: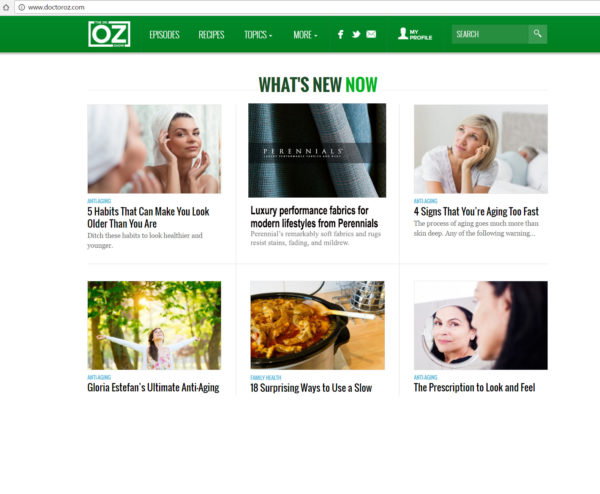 Programmatic Audio
The programmatic audio channel includes any ad serving an audio app like Spotify, Pandora, iHeart Radio, where people stream music and podcasts. Because the creative for a programmatic audio ad involves more than a companion display ad but more importantly professionally produced audio with voiceover, original music and sound effects, many marketers don't have this immediately available. It takes more time to produce, but where there are ears listening, there are opportunities to reach that audience. This channel is great for awareness advertising with or without a CTA. Since this is audio, users are listening and not clicking, so attribution is a bit trickier which is another great reason it's best for awareness campaigns. This channel works well for Millennial and Gen X audiences.
Video Display & Online Video
Like traditional display, video display serves video impressions where video ad inventory is available, which is mainly YouTube and video partner sites. Producing a professional video is usually the biggest hurdle to this type of advertising, but since video is so widely consumed by all generational cohorts, you can get very direct about whom you can serve video impressions to as it's backed by Google's giant database. You can reach a matched audience or an audience made up of specific demographic and geographic criteria. Here are a few of the most-used video formats:
Skippable in-stream ads (appear in YouTube video and after 5 seconds, the viewer can skip the rest)
Non-skippable in-stream ads (appear in YouTube video and the viewer cannot skip)
Video discovery ads (appear alongside YouTube search results)
Bumper ads (appear in YouTube video and are 6 seconds or shorter and not skippable)
Outstream ads (appear on Google video partner websites and are mobile only; you only pay when someone sees your video play for 2 seconds or more)
OTT/CTV
A big push for marketers in 2020 was to take advantage of the trend where "cord cutters" canceled their cable or satellite providers in favor of over-the-top (OTT) streaming apps on mobile devices or streaming apps on a connected television (CTV). Video ads can be served while streaming in supported apps to a matched audience or again a select of demos and geos. Like other video ads, it's widely used by all generational cohorts, although slightly fewer Baby Boomers have cut the cord.
In summary, your channel lineup will depend on whom you're trying to target. If you need help with audience development or need us to model the audience for you with the highest propensity to buy from you, let's talk. Then let's talk about what marketing channels make sense for your next campaign.