Why Marketer's Primary Focus Should Be Customer Experience (CX)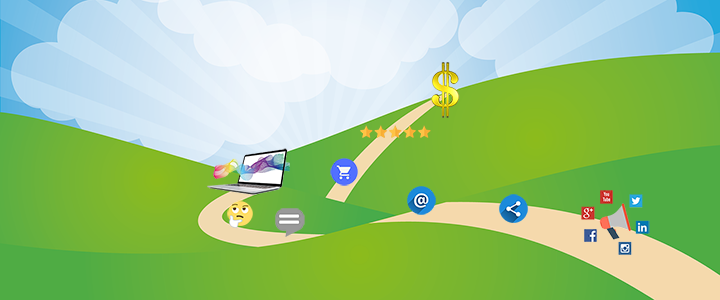 Can we all agree that without customers, you have nuttin'? Since the beginning of the beginning, business involves customers, yet customer experience (CX) is an afterthought. It's definitely getting more attention as businesses are continuously trying to gain an edge over their competition.
CX involves all customer interactions with your brand and all phases or cycles of being either a prospective, active, inactive or current customer. This differs from user experience (UX) which deals with the experience from a single interaction. CX is the sum of all UX.
Who owns the customer experience? All of the teams. It is what unites everyone regardless of their team's individual goals. It's all teams – from C-suite to Customer Success – but especially the teams that touch the prospect/customer directly, typically sales and customer success, support or service. They can save relationships when everything else isn't going as well as desired.
Best Ways to Measure Customer Experience
Depending on what type of business you are, one or more of the following measurement methods would be a good start:
New Customer Acquisition
Net Promoter Score
Customer Satisfaction
Customer Retention
Customer Attrition or Churn
Inquiry Response Times
Inquiry Average Resolution Times
Emerging CX Jobs
The top hot emerging jobs, according to Robert Half, all of which, contribute to online customer experiences:
Augmented Reality/Virtual Reality
Chief Experience Officer
Content Designer
Creative Technologist
Machine Learning Analyst
Voice Design Specialist
Since UX careers have been around for a while, salary ranges are generally $65K–$195K It will be interesting to see where the compensation for newer emerging titles land, but I can only imagine that salaries will be north of where UX titles are. If CX roles oversee all teams that touch a customer in their journey, compensation should accurately reflect the level of responsibility and percentage of revenue attributed to the role.
Impact of Privacy Laws on CX
All of the touches with your brand that don't involve human-to-human contact use data to power personalized and relevant customer experiences. Identity resolution can connect a website visitor to a user's identity. If a customer/prospect does not wish to be tracked, or has exercised their right to opt out, the best thing organizations can do is to provide amazing experiences where they can in every stage of the customer journey.

That means:
Offer educational resources to inform and educate someone who is searching for your type of content.
Offer comparison content to highlight key differentiators that position you above your competition.
Have an amazing product or service onboarding program that alleviates any fear that a customer will have support every step of the way – not just attention to get the sale.
Invest in your customer success/support team's education and skills because they will interact with your customers the most when they need help.
If you don't already have a customer or advocate rewards program to reward them for referrals, start now.
Marketing in 2020 will be all about CX. This includes using data insights to drive personalized experiences with your brand, measuring results and optimizing to make your customer's experience an exceptional journey. If it's not yet exceptional, let's talk.