Three Ways to Stand Out in the Mailbox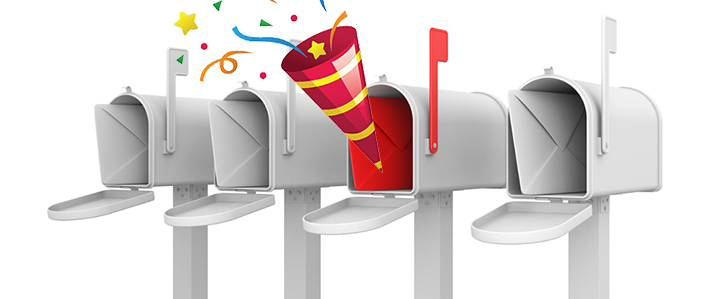 Postage Class
The vast majority of direct mail projects that Infinity Direct executes will utilize standard postage. Standard postage will save on costs and, in many cases, is the most efficient and appropriate class to utilize. First-class postage is more expensive but has proven to show an increase in response rate to certain types of communications. For example, according to the Data & Marketing Association (DMA) 2017 Stat Book, standard mail solicitations sent by insurance companies averaged a 4.9% response rate. First-class insurance solicitations averaged a 9% response rate. An almost 100% lift in response will raise the interest of any smart marketer. Depending on the volume of mail, an increase in 20% per piece cost for postage may or may not be something to consider testing.
The design of a mail package should be considered when determining postage class. Or vice versa. Combine an official-looking outer envelope and first-class postage, and the recipient almost feels compelled to open the package. Think of the communications you receive from healthcare, insurance or financial institutions that are first class vs. standard class. More often than not, you can see what messages require a response.
First-class postage also allows for more immediate response and mail forwarding and return services at no additional cost. First-class postage (2-3 days for delivery) is given priority over standard (5 days locally-15 days nationally). If your message is truly urgent, or requires special services, first-class is a must.
Delivery method
While postage class may provide a more subtle advantage in open and response rate, the way in which your message is packaged and delivered is much more obvious. Dimensional packages like boxes or tubes are necessary for safe delivery of goods. Amazon, product of the month and other packages are as omnipresent at the Infinity Direct office as they are on my neighbors' doorsteps. As more consumers are choosing to shop online and have products delivered, there is opportunity for marketers to capitalize with their own messages.
Switching a previous postcard mailing to a dimensional piece will be costly and needs to fit within budget constraints. The investment in dimensional mail is significant, but in the proper situation, the results can provide the ROI needed to justify the expense. Here are Target Marketing Magazine's top three reasons to use dimensional mail:
Appeal
This unique mail piece resonates with recipients. Not only will they open it, but in most cases, they share it with friends and family. It's also remembered much longer than other types of mail.
Response
Dimensional mail has a higher response rate than regular mail. According to the DMA, the average response is around 8.5%.
Longevity
In many cases, the dimensional mail is useful to recipients and is kept to be used over and over, thus keeping your company top of mind each time they use it.
If dimensional mail is not in your budget, there are more economical options to improve the visibility and interactivity of your message in the mailbox. The outer envelope provides many opportunities to test your direct mail. A cellophane envelope is a great way to showcase a die-cut or upscale design. In addition to the material used for the envelope, size can also help your message stand out. The most commonly used #10 envelope tends to stack up uniformly with the other mail in the bundle and can be overlooked. According to the DMA, a household averages 3.5 letter-size envelopes delivered per week, but only 0.2 larger-size envelopes. Consider testing a larger (or smaller) envelope to stand out from the stack of standard letter-size envelopes in your mailbox.
Personalization
According the DMA, targeting customers on a 1:1 level can increase response rates up to 50% or more. At the very least, using a customer's or prospect's name in full color in the direct mail will help increase open and response rates. Variable-data print (VDP) has proven to be especially impactful with millennials. In a study completed by the research firm InfoTrends, of consumers age 25-34, 90% were more likely to look at a direct mail piece that is customized or personalized to their interest. If you are able to utilize more complex database information like purchase history, you could expect the response to be even higher.
Privacy matters may still be generational. Where some people see personalized messaging as creepy, more and more consumers recognize the personalization as positive. If a direct mail piece arrives in my mailbox that uses my name, a past purchase and recommends items that I may be more likely to purchase, I think that is a more efficient use of resources and intelligence. I am immediately turned off if any addressing information is wrong, but also if the product or message is completely off target.
The biggest challenge in data is not the quantity or complexity involved in data, it is knowing what to do with it. As Bart stated, data should make a brand more relevant to its customers and should make the sales conversion rate from prospect to customer more efficient and streamlined. VDP in direct mail is one way to put all that data to action. If you are my local hardware store and your database shows that each spring I am making a purchase of garden supplies, it makes sense to send me special offers related to gardening. If my neighbor has a past history of buying grilling supplies, he may not be interested in gardening-related offers, but would be interested in the newest smokers and wood pellets that have just arrived. It is no longer enough to simply know your audience, but you need to understand what will drive them to take action.
We've covered some ways to stand out in the mailbox and increase the chances of the audience noticing and opening the package, but getting your audience engaged with the mailer is also an important factor to consider with your design. It is important that the messaging speaks to your audience and provides a clear call to action. Mail format, graphic design and copy are other important (as well as the list) ingredients in a successful mailing.
As printing technology improves and advances, we are seeing the opportunity to utilize some of these tactics on a smaller scale without totally compromising your budget. As you are considering your direct mail budget and how your testing strategies will impact your budget, consider the potential ROI of executing a direct mail campaign that stands out in the mailbox, rather than one that blends in.