Three Side Effects of Direct Mail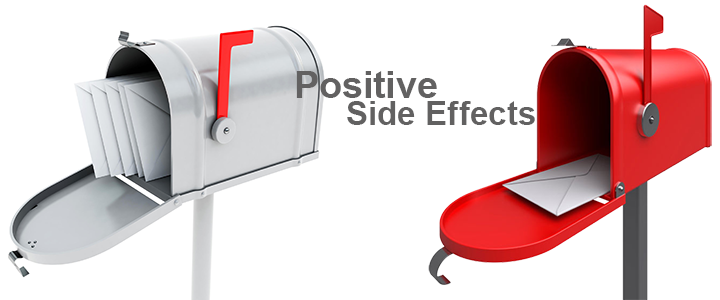 At Infinity Direct, our team of modern direct marketers is deeply rooted in direct mail. Every day we work passionately and with purpose to acquire, retain or grow business for our clients through direct mail and other channels. If you didn't know already, we strategize and execute plans that help our clients improve direct mail response, lower costs and stand out in the mailbox.
For over 25 years, we have worked on the design, printing and mailing of marketing communications. It is no surprise that we are huge advocates of direct mail and the many opportunities it presents for our clients' business goals. When you think about direct mail, many different thoughts come to mind. But what many marketers may not consider are the positive (even if unintended) side effects that direct mail can have on your marketing as a whole. Let's look at three side effects of using direct mail as a part of your overall marketing mix.
Address Standardization
Any mass mailing will require a process of data cleansing and optimization. If you have a customer database that has been neglected, mismanaged or does not inspire confidence in its accuracy, a direct mail campaign can be a great benefit. Coding Accuracy Support System, or more commonly referred to as CASS certification, is a service from the United States Postal Service (USPS) for address validation. When you provide your file to a mailing service provider for your campaign, the data will be processed, and the output will be a standardized list with updated, valid and complete addresses. As a result, the customer database can be modified to update or remove any invalid addresses, giving you more confidence in your data.
New Movers and NCOA
In addition to CASS, the USPS will also require regular National Change of Address (NCOA) verification to qualify for postage discounts. NCOA can be performed with each mailing or every three months to ensure your list is up to date. Performing NCOA on your file will not only help your message get to the proper person and not the current resident, but it will also give you an idea of how many customers in your universe are moving. Identifying customers who have recently moved provides an opportunity to market specific messages to a population with specific needs such as utilities, home services, furniture, décor and more.
Updated Database
Regular direct mail campaigns will also help you maintain a cleaner and more accurate database. By removing records that do not have a valid address or customers who have potentially moved out of your geographic market or service area, you will be able to save costs on data storage and marketing costs associated with future direct mail, email or telemarketing efforts. Optionally, if your database has a lot of inaccurate or incomplete records, there are services available that can append a home address to a person using email or determine the new name at a previous home address. Cleansing your database regularly will help reduce wasted marketing dollars and make sure you are servicing your messages with the most accurate address information.
With over 25 years of direct marketing experience, we have learned, along with our clients, that there are insights to be gained from the intentional and unintentional results of direct mail marketing.