Desperate Times – Creative Measures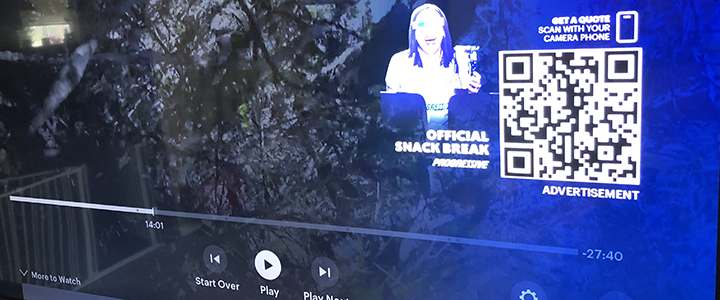 There is no doubt that the way marketers were operating was disrupted without notice by COVID-19. Now marketers are scrambling to positively influence sales with slashed budgets, fewer resources for execution and timeline delays due to furloughs and layoffs.
But the show must go on – even though the playbook has been thrown in the shredder and we're writing a new one as we go.
What we are seeing is a forced switch to a more strategic approach to marketing versus a blast approach – a targeted audience versus casting the widest net. It's the formula we have been pitching to clients forever as direct marketers.
Model a targeted audience of prospect customers who have a high propensity to purchase from you.
Create a targeted campaign plan to reach this audience using as many channels as possible.
Measure campaign and channel attribution to prove ROI.
What changes in today's disrupted marketing world is the "how" in reaching prospect customers with your message and doing so in a way that isn't insensitive to what people are going through.
Here is an example of a static ad overlay in Hulu that appears when you pause your show: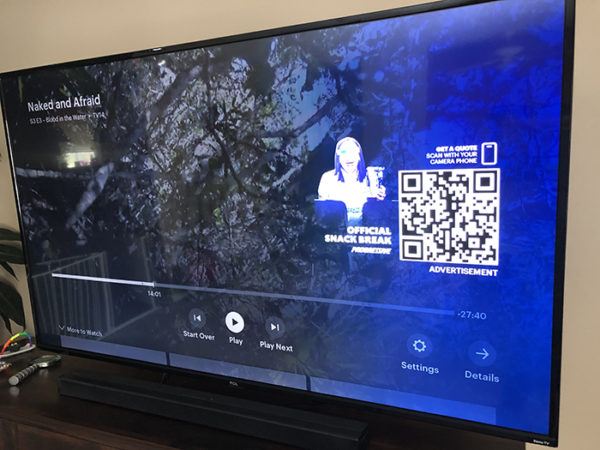 If you didn't already know that both Android and Apple mobile devices have built in QR code scanners in the camera app, now you do. In this example, you can point your phone's camera at the screen and the link will take you to the offer landing page where the call to action is to "Get a Quote."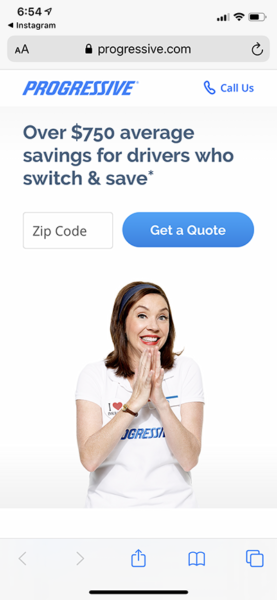 We know the "Stay at Home" orders currently in place in most states have caused a sharp increase in the number of streaming app user accounts as well as increased usage for existing users. We also know that a majority of connected TV (CTV) users also have their mobile device close to them. Short story, you can reach more people than ever before if one of the channels in your campaign's marketing mix includes CTV. This Hulu example is a great way to use a static graphic to drive quote requests.
Here's another example: When users pause a show, it's likely to get a snack, use the bathroom or to prevent little ears from hearing the swears. So, it makes sense to remind viewers that when they are in need of toilet paper to think of Charmin first.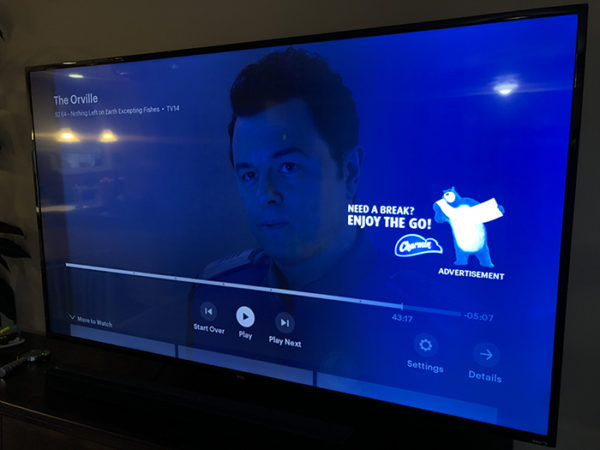 Now I'll switch over to socials, which are also seeing a sharp increase in user accounts and usage. Here is a timely ad served in Instagram for therapy services to help ease anxiety during this difficult time for people working from home. I'm guessing they modeled the audience for women who have children under 10 in the home doing distance learning while also working from home themselves.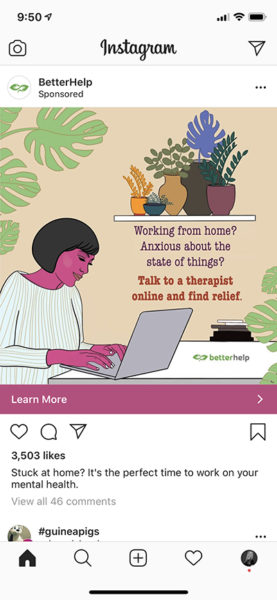 Americans are becoming increasingly aware of calls for hygiene that are driving even lazy hand washers to step up their game and others to approach germaphobe level anxiety. Here is an example of an ad that speaks to most consumers consumed by COVID-19 fears.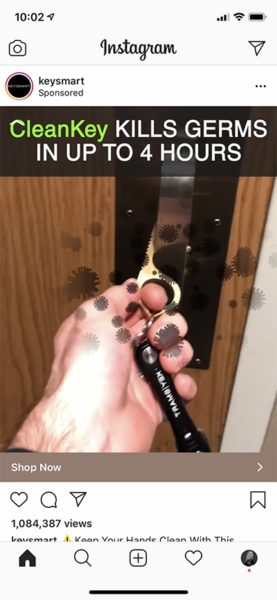 My Facebook feed is still seeing the usual B2B sponsored results but showing an increase in retailers taking advantage of captive viewers who still need clothes. There is also an increase in the ads targeting homeowners at home with projects staring at them in the face. With homeowners being more conservative with their finances, taking advantage of an offer with an expiry date gives them incentive to act now.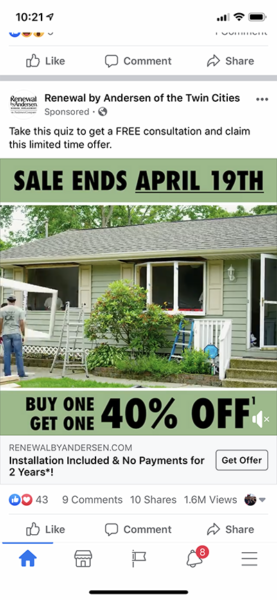 With stimulus checks beginning to reach Americans' bank accounts, now is a great time to reach prospective customers digitally in a creative way with your offer. We can help. Let's talk!