INtelligent Direct: Three Simple Ways to Lower Your Direct Mail Costs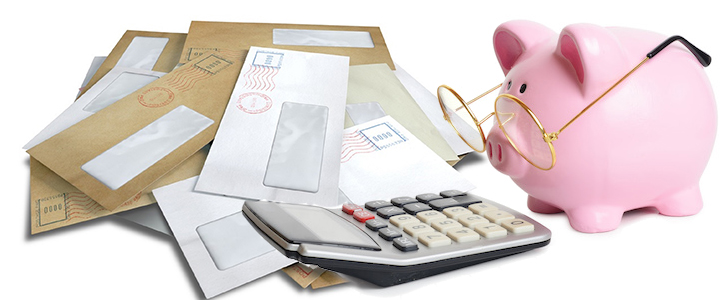 Direct mail continues to be a direct marketing go-to channel for reaching customers and prospects. According to the Direct Marketing Association (DMA) Response Rate Report, direct mail household response rate in 2017 was 5.1% compared to 0.6% email, 0.6% paid search, 0.2% display and 0.4% social. This is the highest response rate the DMA has reported since 2003. A smart marketer knows a strategic mix of channels is critical for the success of any modern direct marketing campaign. As you are planning your 2019 budget, here are three simple direct mail strategies to consider to help stretch your return on investment.
Print Production and Design
There are some steps you can take during the design phase of your direct mail campaign that could save you money on printing. One consideration is the size of your mailer. Oftentimes, printers have certain equipment best suited for different formats and sizes. If your design is flexible, find print efficiencies that best accommodate your format. If you can save money on printing by adjusting the size without compromising the design, that is an easy win.
It is also important to consider the paper stock for the project. If a printer has a house stock, it should be something that they are confident will work with the equipment and typically purchased in bulk at a discount that can be passed along to you. If you don't have a specific paper requirement, it is often a good idea to ask for a recommendation that will fit your desired quality and budget.
In addition to size and paper, the design of your direct mail piece can be utilized to gain cost savings. Designing a universal outer envelope that can be used in multiple direct mail campaigns over time will lower costs. Also, if you only have slight variations in content of a self-mailer or letter, pre-printing shells in large quantity and then using ink jet or other finishing techniques to get the appropriate message on the shell could yield significant savings over time. When looking for ways to maximize your direct mail marketing budget, design and printing are great place to start. Next, let's consider postage saving opportunities.
Every Door Direct Mail
According to the USPS, Every Door Direct Mail (EDDM) is an affordable targeted advertising technique that lets you map your marketing mail audience by age, income or household size. You can use the EDDM mapping tool to choose the ZIP code and carrier route that will target your best possible customers — current and future. The EDDM mapping tool is easy to use, and discounts are available even for small businesses.
One financial benefit of EDDM is a significantly reduced postage rate that we've seen average around 16.6¢ per piece, depending on the total quality. Additionally, EDDM mail allows for the use of flat mailers without postage surcharge. Marketers can utilize larger postcards and self-mailers up to a maximum of 15 inches long and 12 inches wide, with a minimum size of 10.5 inches long and 6.125 inches wide.
Another savings comes from the mail processing, which eliminates the expense of advanced data processing for National Change of Address (NCOA), pre-sort, addressing, intelligent barcode and more. When using EDDM, costs for mailing are minimal since the mailer is not personalized but will go to each household within the designated carrier route(s).
EDDM is a cost-effective way to reach a larger audience at a reduced cost. Retailers, service and utility providers, political mail or other messages that would not require personalization or more qualified and target leads are perfect for EDDM. Infinity Direct has vast experience with EDDM and would be happy to consult on your next mailing project. You can also visit usps.com/everydoordirectmail for more details.
Commingling and Co-Palletization
Commingling offers direct mailers an opportunity to maximize their postage purchasing power by, in effect, joining a mailing co-op. Infinity Direct partners with experienced mail service providers who offer commingling, or taking multiple customers in the mail stream and combining them to create a single mail stream. When the mail data is combined, ZIP codes are sorted into USPS postage rate categories. For example, matching a five-digit ZIP in a tray will net a deeper discount. Certain minimums are required to take advantage of commingling discounts. The discount applies to both letter and flat mailers.
Much like commingling, the USPS co-palletization discount allows mail trays or tubs to be combined on the same pallet. Mail trays from multiple clients can be separated and combined on pallets being delivered to the same Network Distribution Center (NDC) or Sectional Facility Center (SCF) mail entry points. Because this enables fuller pallets of mail to be delivered to the USPS at these entry points, mailers are eligible for deeper discounts.
If you are looking to implement any of these ideas on your next direct mail project, or have any questions, don't hesitate to contact our team of experts.