Weekly INsight: Time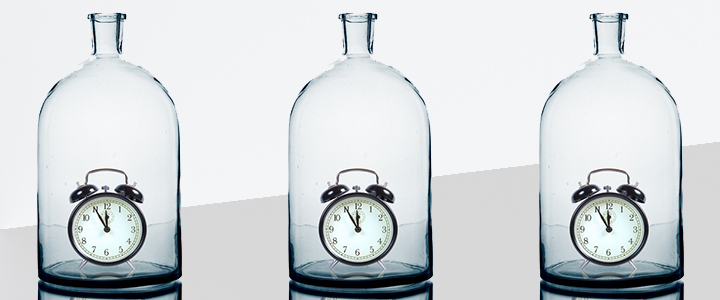 Time is the one thing we all have the same amount of and yet never enough of. Individually or collectively, there's never enough time. Marketing teams are continually being pushed to do more in shorter time spans and leaner staffs. The result is a catastrophic decline in quality output.
INsight #1 suggests that the pressure is not going to stop and technology is not going to save us. Actually, we should be concerned that technology is making the situation worse. Time has been compacted thanks to technological advances. We are expected to do more with less time to do it.
Unfortunately, we cannot save time. Songwriter Jim Croce wrote the ballad "Time in a Bottle" in 1973. The first stanza set the tone:
If I could save time in a bottle
The first thing that I'd like to do
Is to save every day
'Til eternity passes away
Just to spend them with you
Croce might have had a day job in marketing because what he wrote is a marketer's creed. Stay close and spend time with me and my brand. The challenge is that no one has enough time and everyone spends too much time complaining about the time they do not have.
As demands flow from daily, monthly and quarterly dashboards demanding greater marketing efforts, sooner, rather than later, the time factor erodes the output quality and, in turn, the expected results. Marketing teams apologize that they did not have enough time to really explore and flush out the best creative. Data teams too often take what they are given and churn out spreadsheet that they know could be better, but meet their deadlines with less than perfect output. This is a story we hear too often.
Last week I hosted a webinar called "Sweat the Small Stuff." I spent a couple of weeks refining it and MADE TIME to get it done. As I write this INsight issue, it dawned on me that I missed one of the most important small stuff elements – time. I spoke of pattern shifts, data, content, message deliverability and key performance indicators (KPIs) being filled with small stuff that can erode a brand. But, I never addressed time as one of the small stuff elements that may cause the most challenges to every brand and every campaign.
As marketers, we are often challenged to make time to develop the most powerful call to action message for our brands. This is important as we are asking consumers to make time for that message. We have to make sure that message is time worthy. Marketers talk about omnichannel strategies, ecosystems, digital transformations, but what they miss is how to capture the attention of consumers who are overwhelmed with the stream of messages they receive. Marketers make time to send volumes of marketing messages, but not time to plan what will best serve their brands.
INsight #2 attempts to pinpoint what has compacted time in the Age of NOW!
New stuff: It blurs our vision, takes us off task and erodes the time we should be devoting to marketing our brands. New marketing ecosystems are not new, but as digital ecosystems expand, and the lines between these ecosystems blur, marketers are forced to reallocate time to sort them out.
Complexity: Life has become so complex it has eaten away at available time. We don't know how to unsubscribe from the small stuff that clogs our lives. We're very good at deleting, but deleting does not make the problem go away. Marketers are no strangers to managing complex relationships and campaigns. However, consumers and B2B buyers can't keep up with today's expanding market complexities. This is a significant time altering dilemma for both brands and their customers.
Speed: The faster marketing ecosystems evolve; the slower time moves. Blink and you are left behind. Historically, we "had time" to figure things out. That's not how we do business now. Speed has led to more; more has led to clutter that has compacted our time to process what we receive.
There are a lot of new metrics that marketers have been told will help guide and grow their business. INsight #3 suggests we bring back two very old metrics: REACH and FREQUENCY and capture some of the time that consumers have lost. Your brand just has to be there with the right message at the right time. Consumers expect something different or more from the businesses they buy from. They rely on new people or sources to help them make the right purchasing decisions.
Consumer habits are changing. Not all of those habits relate to buying decisions but they do relate to time. Not the lack of time but the consumption of time. Consumption of time is the key to doing business in the Age of NOW! It impacts how marketing puts their campaigns together. The critical reach and frequency components of the marketing equation are different from the historical metrics. It's not about counting impressions, open rates, and click rates. It's about being the brand that reaches and influences buyers at the right times with a frequency of messages that inspire emotions and enough interest to create the next sale.
Maybe it's time to let time out of the bottle. Maybe rather than sprinting to create the next great marketing initiative, we allow it to develop and maybe by telling the next great story, time will slow down enough for your story to be embraced by your time starved customers.
Bart Foreman – Executive Strategist @ Infinity Direct
Turning old ideas into new thought leadership
If you missed our "Sweat the Small Stuff" webinar, you can watch a recording here.