Weekly INsight: Highs & Lows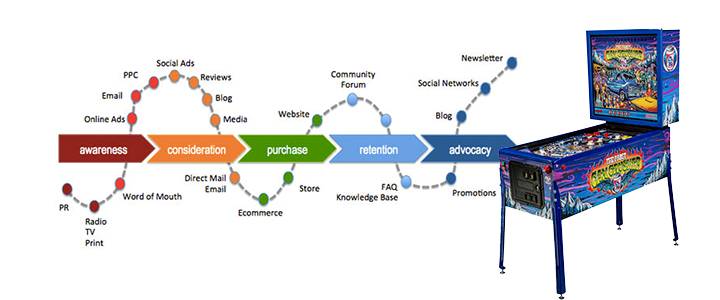 I have often said that customer journeys are not a straight line. Customers are not just on a journey. They are on many simultaneous journeys, and each of those journeys will, in some way, impact your business. This also applies to consumers who find your brand and may want to do business with you. We'll call them prospects. You put them in a funnel. I put them in a pinball machine.
INsight #1 suggests that we should not be too enamored by all the new tools that can track so-called consumer/customer behavior and give the brand an advantage to inspire the next sale. Artificial Intelligence (AI) and predictive modeling have limited applications in most marketing models because (1) humans are not artificial and (2) trying to predict a consumer's next journey step is impossible. You may say, "But sometimes it works." My response is that sometimes we are lucky.
Every journey is filled with highs and lows as the customer moves through life. The roadmap of life is filled with speed bumps, long stretches of straightaways and dangerous curves, most of which the average customer has no control over. The roadmap is filled with multiple intersections, each influencing the next encounter with your brand. Worried about the looming trade wars on a distant (or not so distant) horizon? You'd better get a haircut today so you look even more fabulous when you are looking for your next job. The tariffs being implemented may have far-reaching consequences, and while I cannot predict the outcome on my customer journey, I can prepare for it.
INsight #2 suggests that we have been looking at the "customer journey" wrong. Rather than plotting the highs and lows of a customer journey and where your brand gets inserted into the journey, let's try to identify where the customer is on the "Path to Purchase" with your brand. The concept of path-to-purchase (PTP) is not new. Google it and you will be amazed at the depth of writings on the subject. Some of it makes good sense. Others are hype for another shiny new toy.
A PTP strategy will not smooth out the highs and lows every customer will experience. However, as long as there is an end-game purchase strategy included in the brand's marketing plan, there is an opportunity to inspire another sale.
INsight #3 suggests that every action a customer takes on the PTP is based on a previous experience, or an antecedent. Consider how many factors influence a customer's behavior every day. The truth is that there is no tracking system, no amount of AI or data modeling that can totally influence the PTP. Anyone who suggests otherwise is trying to sell you black box magic. At the same time, there are definite intersections where the brand can meet the customer or prospect.
All marketing data is based on an antecedent. Something happened or didn't happen to create a new data point. The role of a data scientist is to link those data points relevant to the PTP toward your brand. Management's role is to fund marketing's need to identify and capture those relevant data points when they are happening and provide a marketing automation system to influence the next activity on the PTP.
A successful PTP plan includes the following:
Tracking each customer's purchase history with as much detail as possible. There is a wealth of data in every Point-of-Sale (POS) system and Enterprise Resource Planning (ERP) system covering B2B and B2C transactions. This is the base data source for understanding the PTP.
Tracking all intersections with your customer support center. Every time a CSR phone lights up, it is the beginning of a new engagement, and that should become part of the customer's profile.
Tracking digital interactions the customer has with the brand. Website and app visits are most critical. So are posts on social media when they can be identified. Those social intersects show activity, and activity can lead to engagement. The engagement can lead to a positive intersection or if negative, a corrective intersection. Here is one important area where AI can support PTP engagement.
Combining all these intersections to form a single view of the customer can allow the right message at the right time to keep the customer engaged on the PTP. I want to be clear at this point: Every intersection does not require an immediate response. You'll look like a stalker. However, every intersection helps you to better profile each customer's PTP.
The highs and lows of a customer journey may disrupt or interfere with the ultimate PTP, but they don't end it. Marketing needs a strategy that uses the right tools to inspire the PTP to your brand. That begins with data analysis that focuses on what is inspiring engagements and marketing automation that is programmed to further the next dialog. If your brand wants to engage with its prospects, values conversions and wants to strengthen customer retention and capture new growth opportunities one customer at a time, think direct marketing. This is the sweet spot of every direct marketing agency.
Bart Foreman – Executive Strategist @ Infinity Direct
Turning old ideas into new thought leadership