Weekly INsight: 2018 – The Year We Flip the Switch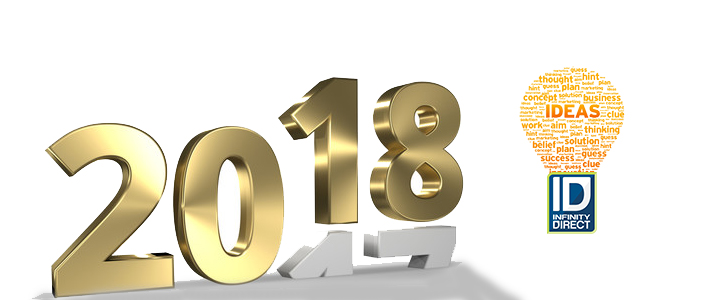 Happy New Year. This is an exciting time for marketing, or it has the potential to be.
Without getting into anyone's politics, regardless of which news source you read, American businesses are going to get a tax break. The bill has been signed into law and the debate is over. Or, maybe it's just beginning.
The tax break is designed to fuel new economic growth. INsight #1 challenges marketing teams to flip the switch and stop making excuses for not embracing the Age of NOW! The majority of businesses are not industry leaders but hang back in the mainstream. Marketing teams have never been so unprepared for today's new realities. This is the year to capitalize on an opportunity that is ripe for exploitation.
According to Marketing Profs Pro, marketing executives say the biggest challenges that could negatively impact their 2018 performance are:
Not having enough budget.
Not having the right team.
Not having enough time.
The 2018 trends marketers feel least prepared for are artificial intelligence, virtual reality/augmented reality, and voice search. My feeling is that the challenges goes much deeper. This is supported by Infusionsoft research that says digital marketing success remains elusive. While their research reflects smaller businesses, I believe these statistics are pervasive throughout many marketing communities:
46% of marketers say they don't know if their marketing strategies are working
17% claim their strategies are not working
37% say their marketing efforts are effective
As we look into the 2018 crystal ball, it's fuzzy. 63% of the survey respondents above say their marketing strategies are questionable. Marketing performance is being negatively impacted, especially online and digital performance. This is why I am suggesting that businesses turn the new tax law into a win-win growth opportunity to flip the switch. Marketing has a-once-in-a-lifetime opportunity to stop blaming budget restrictions and lack of talent for poor results. 2018 is a game-changing opportunity to redeploy marketing and data resources by putting the new tax savings to work to GROW the business.
The challenges and issues outlined above require every CMO to convince senior management that it's time to allocate new-found financial resources to break down data silos and clean up the data they have. This is huge. Data, both internal and external, is the foundation of every marketing strategy. Yet, marketing executives question the validity of marketing data, even their own. They question the holistic views they have of their customers. They complain they do not have the talent to fully understand the data they have, and that the budget will not support these initiatives.
INsight #2 suggests that internal marketing teams have proven they cannot do it alone because they cannot effectively translate data into strategy. In a shameless plug, this is the reason I joined Infinity Direct. My marketing DNA matches the team's DNA. It's all about data first followed by a rigid set of strategic rules that demand we understand our clients' customers and use the data we have to (A) find more relevant data and (B) translate the data into growth strategies that span the new face of marketing.
There are multiple new megatrends facing every marketing team in 2018. Mathew Sweezey, writing in Marketing Profs said, "There is no doubt that we are in the next great Golden Era of Marketing. And with this new era comes an entirely new set of possibilities – along with commensurate consumer demands." 2018 holds great promise for marketing, if we do not sit on the sidelines and allow the bean counters and lawyers to dictate where the tax savings are going to be allocated.
Growth comes from strong marketing campaigns that are built on a foundation of data, a strategy that is customer-centric, and storytelling that cuts through the clutter and propels your brands to inspire the next sale, and, finally, feedback reporting loops that keep your team agile, nimble and fresh. That's what I mean by flipping the switch.
If you are an agency, start a new dialogue with all your clients about growth opportunities. If you are a brand or retailer begin a dialogue with your teams and your agencies. Make 2018 the year YOU flip the switch, fuel YOUR growth, and propel the American economic engine forward. We all win.
Bart Foreman – Executive Strategist @ Infinity Direct
Turning old ideas into new thought leadership
Let's begin a new game changing dialog this week and see what one BHAG we can help you identify. Email me at bforeman@infinitydirect.com or call me at 763-334-7854.