Weekly INsight: Hell Yes, It's Personal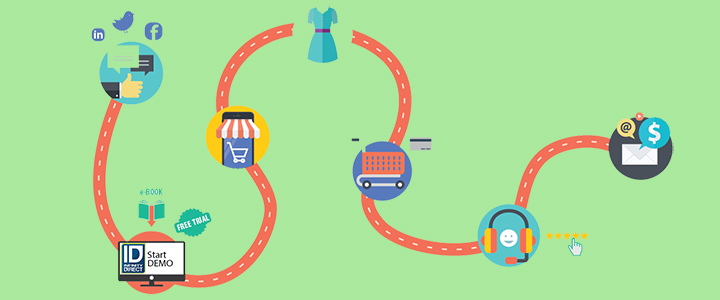 As we journey through the season, I want to wish everyone a Merry Christmas, and a Happy Hanukkah.
In the last decade or so, marketers began to understand that there was such a thing as a customer journey. It took a while for us to understand that there are certain dynamics that are central to understanding the customer journey. Consider these five journey INsights:
Every journey begins with a spark.


Phyllis and I moved last September, and multiple journeys changed in how we live and how we do business with all the retailers and brands we had engaged with for the last 33 years. We remained loyal to some brands; others have been replaced even though our move was only six miles.Should I continue to go to the salon I have patronized for the last 10 years or find one closer? I chose closer. My wife continues to drive the extra distance because of her loyalty to her colorist.My long-time dermatologist retired. Do I go to the dermatologist that bought his practice or look for a new doctor? Do I give her a try? I play tennis with another dermatologist; should I try her?

These are journey influencers that each began with a spark.

Key Takeaway: Sparks never end and they are not always favorable to your brand.

Individuals are continually on multiple journeys with brands and retailers.


One spark ignites multiple journey changes. It's the intensity of the winds of economic, social and technical change and the importance of our relationships with the brands we use and the on and offline retailers we frequent that impact the status quo of our journeys.Key Takeaway: While consumers are on multiple journeys, they are only on one journey with your brand. The critical marketing assignments for your marketing team are to (1) try to understand where each customer is on the journey to or with your brand, and (2) how to use marketing automation tools to stay engaged with each customer or prospect with relevant and timely messaging.

The journeys are not linear.


Prospects are not in a funnel. Thinking that marketing's job is to move them "down the funnel" is erroneous. Prospects are in a pinball machine, continually bouncing around and if marketing does not flip the paddles correctly, the journey can end quickly.Customers in the Age of NOW! are at a much greater risk than in the Age of Yesterday. There is no linear path to the next sale. Multiple forces impact every buying decision. Some are directly related to the relationship your customer has with your brand; more are from outside sparks.Key Takeaway: Digital disruption has altered the course of the consumer's journey, which now passes through a wide range of buying and media channels. We are doing business in the Age of Fragmentation, and the smartphone is the major digital disrupter. What was a somewhat straight line from intent to actual purchase is now a roller-coaster ride punctuated by fragmented attention. Too many brands miss the golden opportunities to stay connected with customers and allow the disruptions to erode the brand journey.

The journeys are not all the same length.


Some are naturally short journeys. Other journeys may last for decades. However, marketers have to understand that regardless of the length of the journey, each step builds toward the next step. Some journeys are complex; others simple. Some are easy decisions; others are gut-wrenching. It matters that the marketing team understands the complexities, not the length of the journey.Key Takeaway: Each brand marketing team needs to fully understand the journey the consumer takes to find the brand and then the journey after engaging with the brand. Every business is different. Cohorts have different life patterns and belief systems that influence the journey.

The journeys are fragile.


Marketers have long been led to believe that it is important to measure the Lifetime Value (LTV) of a customer. Since 1994, I have argued that LTV is black box voodoo marketing speak. It was not until 20 years later that I figured out why I was right.We studied the data from multiple service-oriented and retail clients with deep databases that we built over 25 years. From car washes to entertainment and fashion retailers to a wide variety of beauty industry businesses, we looked at short and long-term shifts in buying patterns. My research of salon guests showed that 50% of first-time guests never returned. Professional Beauty Association (PBA) research said the drop-out rate was 70%. High value movie/video buyers would stop buying within a couple of years if not sooner, while music buyers did not exhibit the same propensity to stop buying.Key Takeaway: It took me 20 years to understand the simple dynamic that disrupts the validity of LTV. The journey is fragile because all customers are FREE AGENTS. They will bolt for a penny, a lack of a smile, difficult website navigation or an e-commerce site that is difficult to use. Or they just lose interest in the brand.
Journey mapping is vital to helping teams understand the dynamics of how customers interact with their brands and how consumers find the spark to do business with their brand. It's personal! If your brands have not built a journey map, you are behind the Age of NOW! marketing curve. Keep this thought in mind: We're told we're only as good as our last campaign, but the reality is we're only as good as our next campaign. It's not just preparing for the next campaign that's important. It's understanding the changing dynamics that will inspire the journey.
Bart Foreman – Executive Strategist @ Infinity Direct
Turning old ideas into new thought leadership
As the Infinity Direct team moves into 2018, we want to dig deeper and look further into channeling our diverse resources to help new and existing clients grow their business, not a little but a lot.
Let's begin a new game changing dialog this week and see what one BHAG we can help you identify. Email me at bforeman@infinitydirect.com or call me at 763-334-7854.