Building a community for remote workers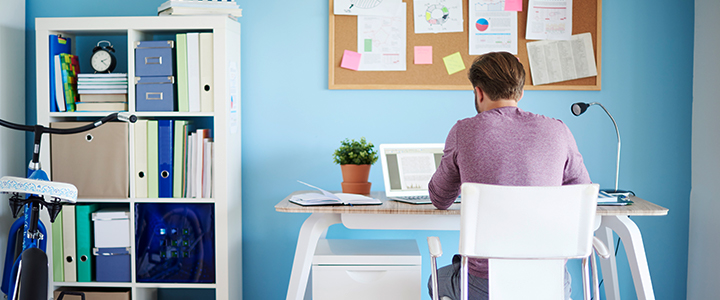 Infinity Direct's Lead Developer Michael O'Neil has been working remotely from Athens, GA, for over a year. As today's guest blogger, Michael illustrates how supporting remote workers can lead to more productive, engaged employees who are less stressed and more loyal to their work.  What's more, they can be responsive to clients in different time zones and less of a burden on our collective carbon footprint.
Don't take just our word for it. See the research.
What makes a remote worker?
I have been a happy and successful remote worker for almost a year now. The transition from working in the office to working at home was a bit daunting at first, but with some carefully crafted strategies, I have become an even more effective and productive employee. I did this by keeping as much of my old routine as I realistically could, including keeping the same mindset and approach to my day as if I were still in the office.
For instance, I start and finish work at the same time each day as I did before. Granted, my commute is much shorter and less hazardous (unless you count stepping on my son's LEGO® collection in my bare feet as hazardous, which I do). I also work out at the same time as I did in the office. I like to work out over lunch to destress and reset my day for the afternoon rush of work that tends to pop up. So I head to my gym, which in my case is in the basement of my house. My kitchen is now my office break room, and I try to keep it as distraction free as I can. If there are dirty dishes in the sink, they can wait until I finish work for the day. Otherwise, it is just a place to grab a snack, lunch or drinks, just like at the office. At the end of the day, I turn off my Macbook and head into the living room to play with my kids. I think you get the picture. The only thing that has really changed for me is the lack of a commute into work.
Tools for remote work
The one thing that I think is trickiest for a remote worker is suddenly being alone for most of the day. It can be hard to get used to. For some reason, I really like the people I work with (and they seem to tolerate me in spite of my personality), and the loss of the watercooler talk and the ease of chatting with a coworker across the room while troubleshooting a problem left quite a gap in my human interaction for the day. So I started using Meetup.com to discover different activities with like-minded people to make up for the sudden dearth of social interaction and also to give me an opportunity to network. I also try to use Facetime and Slack to stay in touch with my coworkers back in the office. Slack has especially become a key tool to both keeping a project moving in the right direction and for keeping up with the latest company news and the world in general.
The home office environment
My home office is also my happy place. I have made it a space that I want to be in all day. I have books, pictures and memorabilia of things that have special meaning to me. I have big windows looking out the front of my house to let sunlight and greenery in, and I have a solid sound system to keep music playing whenever I am at my desk. Picking the right music for what I am doing is key. For example, when I am writing code (which is what I do most of the time), I typically have instrumental soundtracks playing. Music without singing makes it easier for me to focus. Ambient music also works well. Even Yanni works (he went to the University of Minnesota; I consider it local music, and I like to support local artists). My office is separate from the rest of my house, and I treat it as such. It is not part of my living space. It is also a really nice tax deduction if you own your house. True! It's like getting a bonus from work every April 15th. Free money always makes me happy. It's the cherry on top of being a happy and successful remote worker.
Whether you are based in Apple Valley, Atlanta or Anchorage, contact us to learn how Infinity Direct's remote and local staff can help your business or nonprofit exceed its marketing goals.