Do you suffer from BDP – Big Data Paralysis?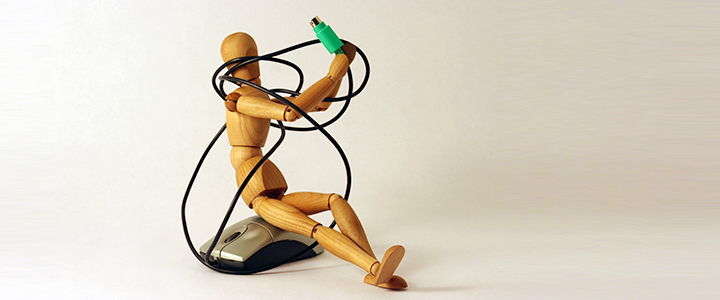 Today's marketer has access to more information than ever before. It's coming from everywhere – in-store customer transactions, e-commerce, inquiries, sales teams, customer service, finance, CRM, social media, email, leads, events, trade shows, online submissions, online search behaviors, third-party appends, IP tracking, suppression lists and on and on and on. In most cases, the data lives in separate locations on multiple systems which don't integrate into a single file. It's a daunting task deciding how to use this wealth of information to communicate with consumers, which leaves many marketers with BDP – Big Data Paralysis.
So how do you overcome BDP?
1. Spring Cleanup.
One of the best ways to tackle your data is to approach it the same way I clean my garage every spring. Start by sorting it all out, put stuff in piles, throw out what you don't need and organize the rest. Same with data. If you map out all your data points and what's captured at each customer interaction, you'll have a better understanding of what information is relevant for marketing and what information you just don't need. Don't be a pack rat; not all data is useful in communicating with customers and prospects.
Build a spreadsheet to compile all your data sources. Make columns for field, field description, data source, who owns the data, can it be exported and file type. You'll be amazed at the amount of customer interaction and fields collected in your organization and will start seeing how connections can be built as well as finding pockets of valuable segments to communicate with.
2. Organize.
Once I've figured out what stuff to keep, I organize it in categories and sub-categories of how I plan to use it over the next year. You've got your "Once a Year" stuff (holiday decorations), "Seasonal" (lawn care and snow removal), and "Use Often" (golf clubs, bikes, tools and cleaning supplies). Now that I can see everything laid out in front of me, I can plan for how I want to use it and begin to organize it. When I'm storing it all away I make sure I have easy access to the stuff I use often and so on down the line with the once-a-year stuff tucked in the back.
Data can be done the same way. Using the compiled spreadsheet of information collected, work with your data teams to understand how your information can be accessed and how easily it can be combined to be made actionable. Some data points are easily accessible and some are very challenging. Understanding this will help you avoid the mistake of building a marketing strategy around a data set you want to use often only to find out access won't allow you to do it.
3. Plan and Use it.
A lot of people I know clean out the garage, spend time putting all their stuff into storage tubs, building cabinets and closets to put everything in and then tucking it all away only to not take it out again until next spring cleaning! Don't be that person.
Now that you understand what data you have, make plans to use it. Start simply to get some wins right away, and work your way up as you learn what triggers and combinations have the biggest returns for your marketing.
Ideas:
Score your customers into RFM categories using transactional data to determine their short- and long-term value. Once you have them bucketed, build plans to move them from lower to higher buckets.
Chart Lifetime Value (LTV). This is a rarely used but highly valuable exercise to help build trigger campaigns based on where your customers are in their lifecycle. It also helps you to determine the value of your customer database and project next likely purchase (NLP) for sales forecasting.
Overlay online activity with transactional data to score engagement. Higher engagement typically leads to greater opportunity. Here's where if you can easily tie online and transactional data together you can build quick-deploy communications to influence immediate buying needs.
These are just a couple of ways to win the battle against BDP. There's much more you can do to use information to win with Big Data, and Infinity Direct can help guide you every step of the way.