ID Approved: our favorite patio season spots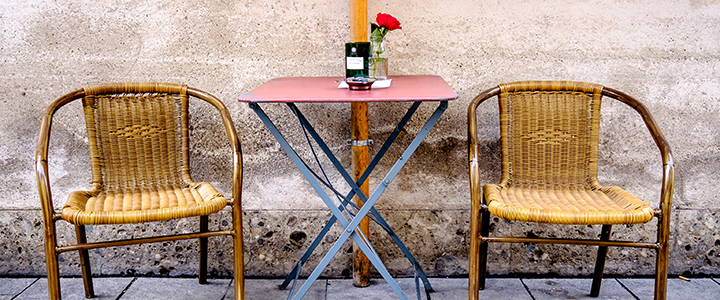 As we all know, springtime in Minnesota can be unpredictable. From sunny 70 degree afternoons to overnight snow, 2017 has been no exception. Unlike the meteorological patterns of the state we call home, Minnesotans consistently love to drink, eat and socialize outside whenever possible.
From downtown rooftops to lakeside cafes, there is no shortage of options around the Twin Cities for client meetings, employee outings or just enjoying a happy hour cocktail or brunch with a view. For the latest in our series of employee-approved establishments, we present some personal patio season favorites.
For Production Specialist Jeff Cotton, it is the food as much as the atmosphere that has him eagerly awaiting the annual seasonal opening of Sea Salt Eatery. With plenty of dog-friendly seating and scenic walking paths to work up your appetite or work off your meal, this Minneapolis staple is a home away from home for the Cotton family. Jeff recommends the scallop taco and crab-stuffed avocado, both of which pair very well with a local beer available on draft. Bring a blanket, comfortable shoes and enjoy an afternoon at Minnehaha Park.
If you are open to venturing out of the city in the quest for some tranquility, our Editor/Copywriter Amy Fischer strongly recommends the Outdoor Terrace at the Marsh in Minnetonka. The Marsh is a membership-based fitness club and wellness center, but membership is not required to dine. The menu options tend to be more health conscious, and the setting is more peaceful than party. Enjoy the unobstructed view during happy hour (4-6 p.m. Monday – Saturday) to recharge your batteries and disconnect from your device for a couple of hours.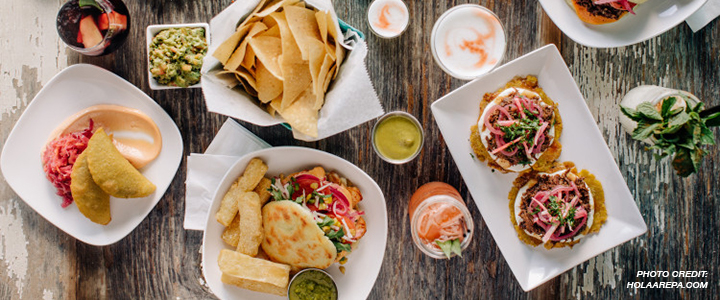 Food truck turned brick and mortar restaurant Hola Arepa is one of Web Application Developer Lisa Fogelman's go-to spots for dining al fresco. Located near the corner of Nicollet Avenue and East 35th Street, Hola Arepa may lack a water view, but the atmosphere is lively and the food fantastic. The large patio is dog-friendly, and there is off-street parking. With a full bar and a menu made for sharing, happy hour is a perfect time to visit. Hola Arepa also serves dinner (Tuesday-Sunday) and brunch on Saturday and Sunday.
Yet another waterside option is CEO Tom Harding's go-to summer patio, Urban Eatery. Located on the edge of Uptown at the street level of the Calhoun Beach Club, the restaurant has an impressive outdoor area offering a great view of the lake. The menu focuses on local, fresh ingredients, and dinner is served nightly, lunch Thursday through Sunday and brunch every Saturday and Sunday. Tom highly recommends the Whiskey Soy Salmon or Grilled Shrimp Taco with a suggested wine pairing. Free valet parking is also available every evening after 5:30.
Looking for more great noshing and imbibing recommendations? See Trent Weber's "Infinity Direct approved: Our favorite taprooms and brewpubs."