ID Approved: our favorite taprooms and brewpubs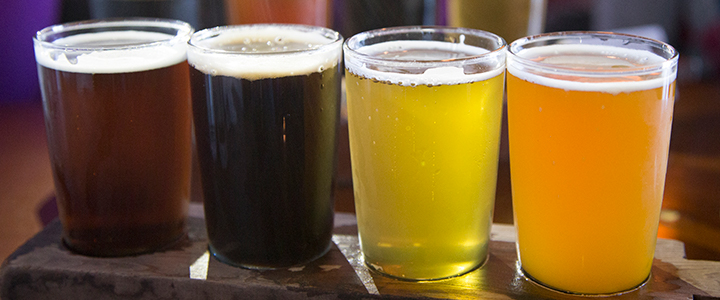 From company happy hours, sunny summer afternoons or a night out with friends, taprooms have weaved their way into the lives of us hop-crazed Minnesotans. Infinity Direct (ID) is no exception, and many of our staff have an affinity for craft beers.
Whether we are kicking back at the office for Friday Beer:30 or at a destination brewery, beer brings us together to share ideas, have a laugh and connect with those around us. To help quench your thirst, here are a few ID-approved taprooms around the metro and beyond.
Minneapolis taprooms

Surly Brewing Co. – Minneapolis
It's no surprise that Surly would top our list. From the little brewery that could to a world-class destination brewery, Surly is a place everyone should experience. You'll always find exclusive drafts, a lively atmosphere and an evolving chef-crafted menu.
Beer recommendation: Furious, Cacao Bender
InBound Brew Co. – Minneapolis
One of the newer taprooms in town, InBound made an immediate impact in the brew-laden North Loop neighborhood. With a huge, open floor plan featuring handmade wooden tables and benches, the room is bright and airy. And when weather allows, the staff opens the garage doors.
Beer recommendation: Wild Rice Porter, Apricot Pale Ale
St. Paul and surrounding area taprooms

Bang Brewing – St. Paul
Bang Brewing was built inside a grain bin that can only hold around 50 people and is perhaps the most unique taproom in the Twin Cities. With a newly expanded outdoor space, Bang can now serve more of their 100% organic brew to thirsty patrons.
Beer recommendation: Nice, Bang
Hayes Public House – Buffalo
Located in downtown Buffalo, about 45 minutes west of the metro, Hayes Public House provides a beverage pot of gold for journeys out west on Highway 55. With the feel of an authentic Irish pub, friendly staff and regular live music on weekends, Hayes is worthy of a drive. If still not inspired, the pizza at nearby Norm's Wayside makes it a proper road trip.
Beer recommendation: Dullahan Coffee Porter, Hayes Irish Stout
Fitger's Brewhouse and Bent Paddle – Duluth
Speaking of road trips, no trek to the North Shore would be complete without a stop at Fitger's. Located in the historic Fitger's Brewery Complex, this brewpub has been serving craft beer to go along with local-focused food since 1995. And since you are in the area, a visit to Bent Paddle Brewing's taproom should be high on your list; this less touristy and more neighborhood bar will bring you out of Canal Park for a little more local flavor.
Beer recommendation: Fitgers – Apricot Wheat, Big Boat Oatmeal Stout; Bent Paddle – Cold Press Black Ale, Lollygagger Pale Ale
Stay thirsty and dream big, friends.