A salute to our veterans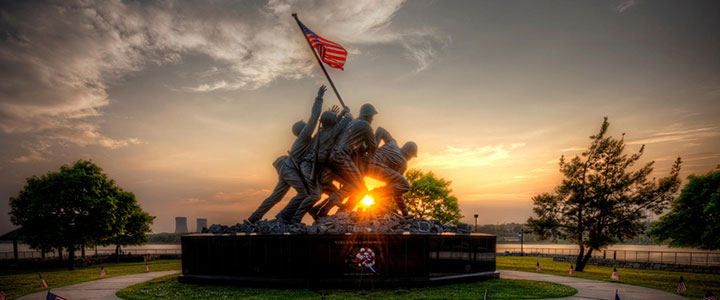 Attention to detail, working within a team and maintaining calm under pressure are attributes that any employee of a marketing agency must possess. As campaigns evolve in complexity and creativity, the agency becomes an extension of the client and must produce great work without compromising quality.
When you talk about focus, teamwork and pride with Todd Austin and Kyle Porter, it is clear these are much more than bullet points on a corporate resume. As we honor our nation's veterans on this holiday, Infinity Direct would like to recognize Todd's and Kyle's service to our country and share a little more of their stories.
What inspired your decision to enlist in the military?
Todd Austin: I was a sophomore in college, and I felt like I was just "going through the motions" and following the crowd too much. I wanted something different, so I started looking into the military.
Kyle Porter: Like Todd, I was also looking for something different in my life. And the opportunity to serve in exchange for assistance with my education was a big factor.
What branch of the military did you serve and when and where were you deployed?
TA: When I was considering the military, I decided to do the hardest thing out there and chose the United States Marine Corps. I served from 2007-2011 as a part of 1st Tank Battalion stationed in 29 Palms, California. I was deployed to Iraq from 2008-2009. I was a Tank Crewman, with the rank of Corporal, on an M1A1 Abrams tank.
KP: I joined the Army and eventually reached the rank Private First Class. I was an automatic rifleman and grenadier in a dismounted weapon squad, spending over 14 months stationed in Iraq. Most of that time was in a city called Hit just south of Ar Ramadi.
Can you touch on how your military experience helped to shape your post-service life, professionally and/or personally?
TA: After four years of service, I jumped right back into college. I was a different person than when I had gone in. I had a far better appreciation for the simple things in life. The life experiences are the things that I carry with me now. I now know that there isn't anything that can't be overcome, even in an office environment. If a project doesn't seem feasible or is too crunched on time, I just look back at where I've come from, and then I keep plugging ahead.
KP: In addition to the education opportunities the military presented me, my experience helped to shape my overall work ethic. My career path is continuing to evolve, and I am not sure where it will lead me, but I know that I am prepared.
Todd Austin is Software/Quality Assurance Developer at Infinity Direct. Outside of work, Todd enjoys spending time with his wife, Becky, and infant son, Arie. He recently finished his first marathon, completing the Marine Corps Marathon in Washington, D.C.
Kyle Porter is Tier 2 Support Specialist for Infinity Direct, supporting the IT department and staff with everything from cyber security to troubleshooting the latest iPhone updates. He is currently working on completing his degree in business management.