Infinity goes to TEDC15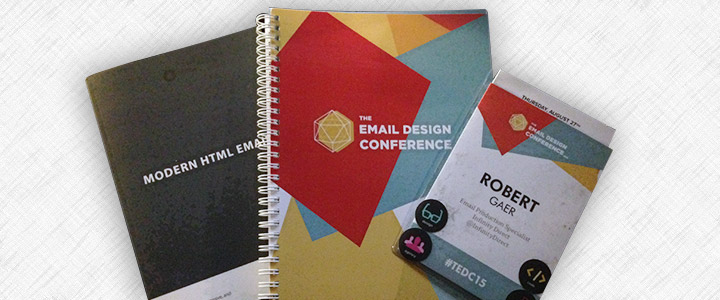 This year's Email Design Conference was held in Boston, and I was there to represent for my fellow email-centric Infinites. Email developers do not have the panache that our web developer cousins have, so it's reassuring to be reminded that the general email marketing community is strong and tight-knit.
Not only is email not dead, it's one of the strongest ROIs out there for marketing channels.
One thing I noticed throughout the conference was the shift from terminology like "graceful degradation" and toward "progressive enhancement." Both terms essentially mean the same thing. No matter what platform your audience uses, email designers, developers and managers must provide a strong experience for all users. Some email platforms (*ahem* Outlook 2007, 2010 and 2013) provides only a baseline email experience. More modern email platforms have far more robust rendering capabilities. Thus, we should not sacrifice good design to please the baseline. Instead, we should build for those with the capabilities to see it. "Enhancement" definitely has a more positive spin than "degradation" though, right?
Another theme this year for email developers was modular and repeatable workflows. Infinity Direct has approached streamlining development cycles through snippets (modular code segments) and code pre-processors like Middleman. By using tools like these, efficiencies are created through the use of simplified repeatable processes. This in turn cuts down production time and provides better customer value.
Besides the emphasis on automated workflows, knowing your audience was another major theme. Audience behavior is of critical importance from conception to deployment in the email world. Knowing what content drives engagement, when your audience is more likely to open your emails, and what platform they are using can make or break the success of an email. This is why email reporting and analytics are so important to drive future campaigns.
Quite a bit of focus was on the use of responsive email designs, as mobile generally makes up more than half of all opens. This makes a mobile-friendly approach imperative for email marketers. Infinity Direct has been offering responsive email development for years.
All in all, TEDC15 was a fantastic opportunity to learn new tips and tricks, network with other email developers, and see what the best and brightest in the email marketing community have in store for the emails that will be gracing your inbox in the future.